USM Veterans Center Makes Significant Strides in Four Years
Fri, 08/31/2018 - 15:04pm | By: Van Arnold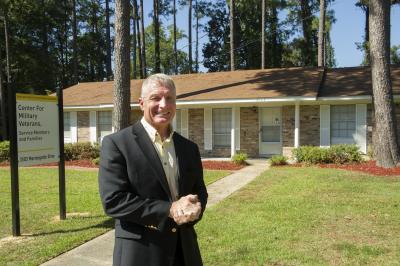 The University of Southern Mississippi launched the Center for Military Veterans, Service Members and Families in October, 2014. (Photo by Kelly Dunn)
What began four years ago as a promising idea in the imagination of Maj. Gen. Jeff Hammond has sprouted into a vibrant, prestigious and heralded Center for Military Veterans, Service Members and Families at The University of Southern Mississippi.
Housed on USM's Hattiesburg campus, the Veterans Center provides a comprehensive "military-friendly" education support program (application, admission, matriculation, graduation and professional placement) that successfully attracts military veterans, service members, dependents (family members) and survivors to pursue academic and professional development interests.
When the center officially opened in October, 2014, less than 600 military students were enrolled at USM. Last year saw a little more than 1,200 enrolled and the number is expected to go even higher when Fall 2018 numbers are finalized.
Hammond, who retired after serving 32 years in the U.S. Army, has been the center's director since its inception. Much like a proud father, he has watched the USM Veterans Center's growth with admiration and appreciation.
"In a short period of time, we have established one of the finest student-veteran centers across the nation and without any doubt the tops throughout the State of Mississippi," said Hammond. "In slightly more than four years, we progressed from a non-existent program to one that is nationally recognized by Military Times as being among the Top-20 'Best for Vets' programs across the United States in providing caring support to military veterans, service members and their families."
In fact, the USM center has been selected as a Top-20 "Best for Vets" school by Military Times for the past two years.
In addition to receiving full support from University administrators, Hammond credits a hard-working and conscientious staff for the center's enormous success.
"I am most proud of our staff who continue to amaze me with their heartfelt commitment to supporting our mission in meeting the needs of military students," he said. "The USM Veterans Center staff is absolutely remarkable, just ask any of the student-veterans. Their creative thought has resulted in the emergence of numerous new programs designed to support the students in promoting their academic and professional interests."
One of the more innovative initiatives launched by the center is the "Textbooks for Troops" program, designed to make available (at no cost on a loan basis) a variety of classroom textbooks and professional development books for student-veterans, service members, and military family members.
The program works and sustains itself by having qualified students check out their textbooks for an entire semester. The students must return the books to the Center so that books can continue to be loaned out to other students for the following semester. These textbooks are available for military students taking courses at any of the University's teaching sites.
Kerri Parker, a junior majoring in social work, notes that the center has been invaluable in helping shape her academic career. Parker served four years in the U.S. Army as a supply specialist. She currently serves as president of USM's Student Veterans of America Organization.
"The center has improved and enhanced my success on and off campus as a student-veteran and leader," said Parker. "It has offered resumé building, job search opportunities, as well as providing wonderful programs such as 'Textbooks for Troops.' Through the center, I have been introduced to the student organization for veterans, landing me a vital role with that group."
Kennedy Branton, a sophomore majoring in elementary education and daughter of retired Master Sgt. John Branton (29 years Army National Guard), echoed Parker's sentiments.
"The 'Textbooks for Troops' program and simply having a peaceful area in which to study are what make my time at the Veterans Center so beneficial," said Branton. "I also was lucky enough to earn a job there as a work-study in 2017, and I just love it."
Earlier this year the center welcomed a vocational rehabilitation counselor through the Department of Veterans Administration (VA). Steven Welch joined the USM center as part of the VA's "VetSuccess on Campus" program. USM is one of 94 universities/colleges across the nation to be included in this prestigious program and Mississippi's only designee.
The new VA counselor provides a "one-stop liaison" for all student-veterans in the South Mississippi region. The program aims to help student-veterans and their qualified dependents succeed and thrive through a coordinated delivery of on-campus benefits assistance and counseling leading to completion of their education, and preparing them to enter the labor market in viable careers.
Hammond considers it not only an obligation but an esteemed honor to assist military students. He consistently touts the voluntary service and sacrifice members of the armed forces make to keep America safe.
"We must never forget that our sacred freedoms have been well protected on the broad shoulders of those who serve in our military," said Hammond. "We love the humble opportunity to serve those who have so well served each of us. The joy and special honor of arriving to the USM campus each day for the expressed purpose of supporting student-veterans and military family members is nearly beyond explanation."
To learn more about supporting Student-Veterans and Military Family Members please contact the USM Veterans Center at 601-264-4629 or email jeff.hammondFREEMississippi.