Wiest Teaching Dual Enrollment History Course at Local High School
Thu, 08/09/2018 - 14:59pm | By: David Tisdale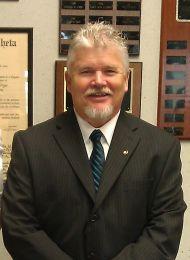 Don't call on Dr. Andy Wiest to fix your leaky faucet, repair a fence, or construct a new deck. His handyman skills prove him to be otherwise.
Reconsider asking him to coach your child's sports team. He freely admits his own athletic exploits were never letterman-worthy.
But in the classroom, The University of Southern Mississippi distinguished professor of history scores high marks for his pedagogy. Now, Dr. Wiest takes that talent to Hattiesburg's Sacred Heart High School, where this fall he's teaching a dual enrollment version of USM's world civilizations course (HIS 102). Students in the class earn college credit while meeting requirements for high school graduation.
The course covers world history from 1500 to the present, including some of the most interesting and important aspects of the modern world, from the Reformation to the foundation of the United States and Wiest's own research areas of World War I and II, and the Vietnam War; the Civil Rights Movement, and present-day conflicts in the Middle East.
"I've long sought a way to best give my time and talent to Sacred Heart, the school my children attend," Wiest said. "It's a small school, and a great one, and in that type of environment I've learned that, from coaching, to building things, to painting the parking lot - the hard work of parents is a key component of the school's success.
"I'm not all that handy, and was never much good at sports — so I kept looking for a way to give of my time. To me, this also represents a real chance to help take Southern Miss out into the local community in a real concrete way."
When Wiest offered his services, Sacred Heart Schools Director of Administration Dr. Elizabeth Yankay enthusiastically accepted.
"We're so appreciative of Dr. Wiest giving his time and talents to our students," Dr. Yankay said. "We constantly seek ways to offer them new opportunities to obtain college credits while still in high school. With Dr. Wiest, they get a world-class teacher who lets them get a 'taste' of being in a college class."
Although this is a different teaching experience for Wiest, he's excited about the opportunity and wants to continue beyond this fall semester, including at other local schools such as his own alma mater, Hattiesburg High. He'd also like to see his faculty colleagues in various disciplines teach at local schools.
"My goal is to give these students some intriguing history to think about. Examining such a wide range of events helps them learn where their own nation and history comes from, and prepares them to think critically about their own future," Wiest said.
"I also want to give them a taste of what college is going to be like, and know about the wonderful opportunities available to them at USM after graduation."
Christian Nesser, a junior at Sacred Heart, says history is one of his favorite subjects, and was intrigued by the opportunity to enroll in a college-level course. "I love Dr. Wiest's enthusiasm," Nesser said after the first meeting Aug. 9. "He's very interesting and knowledgeable, and makes learning fun. It's going to be a great class. "
Dr. Wiest is founding director of USM's Dale Center for the Study of War and Society and a member of the University's Alumni Hall of Fame. A widely respected historian of the Vietnam War, he is the author of several books, including The Boys of '67: Charlie Company's War in Vietnam, which is the basis for the National Geographic Channel and Lou Reda Productions' Emmy-nominated documentary "Brothers in War," with Wiest serving as lead historical advisor to the project.
Learn more about Dr. Wiest at https://www.usm.edu/history/faculty/andrew-wiest.