Year in Review: USM Marks Major Success in Academics, Research
Thu, 12/20/2018 - 02:47pm | By: Van Arnold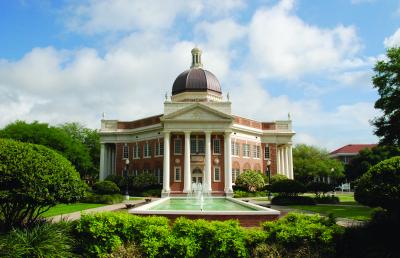 From the opening of new facilities, to a substantial enrollment increase, to success on the athletic fields, the year 2018 proved to be dynamic and memorable at The University of Southern Mississippi (USM).
Paring the list of noteworthy accomplishments to a concise list is difficult at best, but listed below are some of the more distinguished highlights from the past year:
New Facilities Open
Enrollment Rises
For the first time in history, USM welcomed more than 2,000 first-time, full-time freshman students to the University for the 2018-19 academic year. This year's 2,115 freshmen are 11 percent more than the 1,903 new freshmen who enrolled in Fall 2017. The 2018 freshman total also represents a 35 percent increase over the 2016 mark of 1,558. The record number of freshmen contributed to a preliminary total enrollment of 14,743 in Fall 2018, an increase of 1.8 percent over the Fall 2017 mark of 14,478. The percentage growth was the most in Mississippi, and the Fall 2018 total enrollment figure is the most at the institution since 2014. http://news.usm.edu/article/university-southern-mississippi-shatters-freshman-enrollment-record-total-enrollment-grows-1
USM Foundation Milestones
With private support from alumni and friends, the USM Foundation's endowment surpassed a historic level of $100 million. In fiscal year 2018, more than 3,900 donors contributed gifts totaling $21.3 million, including $15.5 million in outright gifts and $5.8 in deferred gifts through estate planning. Included in the $100 million endowment is an $8.7 million commitment—the largest private gift in USM's history—from the Luckyday Foundation to renew its support of the Luckyday Citizenship Scholars Program at USM. This brings the Luckyday Foundation's cumulative commitment to the University to $35.7 million. http://news.usm.edu/article/university-southern-mississippi-foundation-s-endowment-reaches-100-million-milestone
Buffett Inducted into Hall of Fame
Research and Innovation
In June, USM and the U.S. Army Engineer Research and Development Center (ERDC) signed a Memorandum of Understanding, paving the way for the implementation of a Partnership in Education program. The program's primary purposes are to encourage and enhance academic study in science, mathematics and engineering disciplines; support graduate study and research in scientific and engineering areas of mutual interest; and establish the policies and procedures for USM to participate as a member of the ERDC's Graduate Institute. https://news.usm.edu/article/usm-us-army-engineer-research-and-development-center-sign-education-partnership-agreement
In September, the National Institute of General Medical Sciences renewed a $19 million grant for the next five years that will allow Mississippi researchers and students to continue enhancing biomedical research in the state through the Mississippi INBRE program. The program is housed on USM's Hattiesburg campus. http://news.usm.edu/article/mississippi-inbre-s-19-million-renewal-aims-enhance-biomedical-research

Also in September, state officials announced the awarding of a $20 million, five-year grant from the National Science Foundation (NSF) to help spur creative discovery and economic opportunities through four of Mississippi's research universities. With the grant funding, the state of Mississippi will establish the Center for Emergent Molecular Optoelectronics, an inter-disciplinary, multi-institution materials research program. Mississippi State University (MSU) will serve as the project's administrative lead and USM will serve as the science lead. http://news.usm.edu/article/state-mississippi-awarded-20-million-establish-center-emergent-molecular-optoelectronics

In November, officials announced that USM would take part in a $4.73 million contract with the U.S. Department of Defense's Domestic Preparedness Support Initiative. The initiative coordinates Department of Defense efforts to identify, evaluate, deploy, and transfer technology, items, and equipment to federal, state, and local first responders. http://news.usm.edu/article/usm-announces-473-million-contract-us-department-defense-program-test-security-technology
Clyde Kennard Honored
In February, an unveiling ceremony was held in honor of Clyde Kennard, the first African-American to apply for admission to The University of Southern Mississippi. A Mississippi Freedom Trail marker was erected on the University's Hattiesburg campus near the entrance of Kennard-Washington Hall, formerly the Student Services building, in remembrance of Kennard's attempts to enroll at USM in the 1950s. To honor his life and legacy, a posthumous Doctor of Humane Letters, honoris causa, was awarded to Kennard at the 2018 Spring Commencement ceremony. http://news.usm.edu/article/kennard-legacy-freedom-trail-marker-honors-usm-civil-rights-icon-s-pursuit-education
Baton Passes for Symphony Orchestra
City of Hattiesburg Partnerships
NCS4 World Cup Training
Speakers Elevate Forum Series
USM's acclaimed University Forum Lecture Series opened in September with guest speaker and author Susannah Cahalan, who was diagnosed with a rare autoimmune disease, anti-NMDA receptor encephalitis, which caused her body to attack the reasoning and emotional centers of her brain. Cahalan recovered and wrote a memoir, Brain on Fire, that was recently made into a Netflix film. She was joined during her appearance by USM alumna Jasmine Whiteside, who in 2013 was diagnosed with the same disease, and spent six months in a coma before recovering to pursue a doctoral degree at Ohio State University. http://news.usm.edu/article/brain-fire-author-susannah-cahalan-usm-alumna-jasmine-whiteside-recount-their-battle-rare-di

Simple, yet strange. That's how Princeton astrophysicist Dr. David Nathaniel Spergel characterized the universe during his Forum Series lecture in October. The program was co-sponsored by USM's Rayborn Lecture Series in Physics. A MacArthur Foundation "Genius Award" recipient and cited among the "25 Most Influential People in Space" by Time, Spergel currently works with NASA to explore the mysterious dark matter and dark energy that forms up to 95 percent of the universe. http://news.usm.edu/article/astrophysicist-spergel-shares-insights-nasa-research-universe

Jose Antonio Vargas, a leading immigration rights activist and Pulitzer Prize-winning journalist, closed out the 2018 Forum Series schedule with his presentation: "Define America: My Life As An Undocumented Immigrant." Vargas was part of a team of journalists at The Washington Post that won a Pulitzer Prize in 2008 for its coverage of the massacre at Virginia Tech University that left 32 dead. http://news.usm.edu/article/vargas-american-south-must-be-part-conversation-immigration
Success in Athletics (Related stories can be found at: https://southernmiss.com/)
The USM baseball squad captured both the regular-season and Conference USA Tournament titles for the first time since 2013. The Golden Eagles participated in the four-team NCAA Regional Tournament in Fayetteville, Ark.
In May, the 2018 Conference USA Track & Field Championships ended with Southern Miss taking home the women's title for the first time in school history.
The USM women's soccer team made history by reaching the Conference USA Tournament finals for the first time. In the title match, the Lady Eagles dropped a hard-fought 2-1 decision to North Texas in two overtimes.
The USM Golden Eagles football team completed the 2018 season with a 6-5 record, marking the team's fourth consecutive winning season.