11th Annual Southern Miss Jazz and Blues Festival Set for March 30 at Gulf Park Campus
Mon, 03/11/2019 - 07:49am | By: Jenny Tate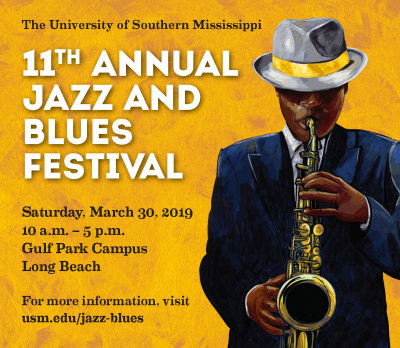 The smooth sounds of local jazz and blues musicians will soon fill the coastal air as The University of Southern Mississippi (USM) Gulf Park Campus hosts its 11th Annual Jazz and Blues Festival on Saturday, March 30, 2019.
From 10 a.m. until 5 p.m., on the South Lawn of the University's Gulf Park campus in Long Beach, festival attendees can expect to enjoy live music performances; art, products and food; and family- and child-friendly activities during this year's festivities.
"The Jazz and Blues Festival is the largest, community-centered event that we host on our Gulf Park campus," said Steve Miller, Vice President for the Gulf Park Campus. "We enjoy welcoming family, friends and visitors from across the Mississippi Gulf Coast and the southeast region to our beautiful beachfront campus for this annual event."
New additions to this year's festival include an Eagle Fever online crowdfunding project, a Jazz and Blues Art Competition, an interactive children's village, and musical performances by local high school jazz bands.
Eagle Fever, an online fundraising tool operated by the USM Foundation, provides an opportunity for individuals to donate online to the Gulf Park Scholarship Endowment Fund. All net proceeds from the Jazz and Blues Festival will support scholarships for Gulf Park campus students. To make a gift to the Gulf Park Scholarship Fund, visit eaglefever.usm.edu/gulfpark.
"This new Eagle Fever fundraising campaign makes the Jazz and Blues Festival more special and important since funds raised during this month-long campaign go toward scholarships specifically for Gulf Park campus students. Contributions can be made online the entire month of March, and we hope to reach our fundraising goal by March 30 – the day of the festival," added Miller.
The inaugural Jazz and Blues Art Competition will celebrate visual art representing the spirit of the festival and the Gulf Park campus. Interested contestants can submit entries until March 20. The overall winning artwork will be the featured artwork for the 2020 Southern Miss Jazz and Blues Festival. Additional information on the art competition can be found online at usm.edu/gulfcoast/jazz-blues/art-competition-and-activities.
For the first time in the festival's history, local high school jazz bands from Gulfport, Long Beach and St. Stanislaus will perform at the event.
The musical line up for the 2019 Southern Miss Jazz and Blues Festival is as follows:
Main Stage
10 a.m. – Noon, Coast Big Band
12:45 – 2 p.m., Jamell Richardson and Hi Def Soul
2:30 – 4 p.m., Stooges Brass Band
Side Stage
Noon – 12:45 p.m., St. Stanislaus High School Jazz Band
2 – 2:30 p.m., Long Beach High School Jazz Band
4 – 4:30 p.m., Gulfport High School Jazz Band
More than 40 vendors will be on site at the event, offering arts and crafts, information, and food and beverages throughout the festival grounds. 2019 Southern Miss Jazz and Blues festival T-shirts and posters will also be available for purchase during the event.
Student organizations at the Gulf Park campus will offer a number of children's activities, including carnival games, a dunk tank and a bounce house. Families and children will also have an opportunity to take part in the inaugural interactive village, featuring USM's Gulf Coast Research Laboratory, Polymer Science, Nursing, and Criminal Justice programs, along with external partners Lynn Meadows Discovery Center and the Humane Society of South Mississippi.
Representatives from the Long Beach Fire Department and Long Beach Police Department will bring a fire truck and police car, and American Medical Response (AMR) will have an ambulance on hand for children and families to interact with during the festival.
The 2019 Jazz and Blues Festival is made possible by a number of community partners and sponsors. Golden Eagle sponsors are Eley, Guild, Hardy Architects and The Gazebo Gazette. Gold sponsors are Lamar Advertising, Salute, and Warren Paving. Silver sponsors include the City of Gulfport, City of Long Beach, Dickie and Nancy Dunaway, Gulf Coast Veterinary Emergency Hospital, Hancock Whitney, Mainspace Office Solutions, Mississippi Power, and PrideStaff. Bronze Sponsors are Cable One, Long Beach Chamber of Commerce, MGM Beau Rivage, and Neel Schaffer. Other festival supporters include Coca-Cola.
The USM Gulf Park campus is located at 730 East Beach Boulevard in Long Beach. For more information on the 2019 Jazz and Blues Festival, visit Mississippi%2Fjazz-blues or email jazz.bluesFREEMississippi.