Abra to present for McCarthy Lecture Series Feb. 12
Wed, 02/06/2019 - 16:02pm | By: David Tisdale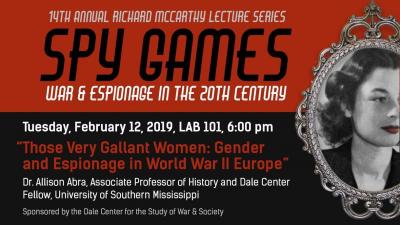 The 14th annual Richard McCarthy Lecture Series at The University of Southern Mississippi (USM), continues Tuesday, Feb. 12 when associate professor of history Dr. Allison Abra presents "Those Very Gallant Women: Gender and Espionage in World War II Europe." Presented by USM's Dale Center for the Study of War and Society, this program will be held at 6 p.m. in the Liberal Arts Building, room 101, on the Hattiesburg campus.
The theme for this year's McCarthy Lecture Series is "Spy Games: War & Espionage in the Twentieth Century." These events are free and open to the public.
A native of Winnipeg, Canada, Dr. Abra earned her Ph.D. from the University of Michigan and joined the USM faculty in 2012. Her areas of expertise include modern British history, the histories of popular culture, women and gender, and war and society. She is the author of Dancing in the English Style: Consumption, Americanisation and National Identity in Britain, 1918-50. A Dale Center Fellow, Dr. Abra was recently nominated as USM's Mississippi Humanities Council (MHC) Teacher of the Year.
The Dale Center is housed in the USM History Program. For more information about this event, contact USM History at 601.266.4320, or visit the Dale Center at https://www.usm.edu/war-society. To learn more about Dr. Abra and her work at USM, visit https://www.usm.edu/history/faculty/allison-abra.