Dale Center Research Award Program Recognizes Scholarly and Professional Activity of Students, Faculty, Staff
Tue, 03/12/2019 - 11:02am | By: David Tisdale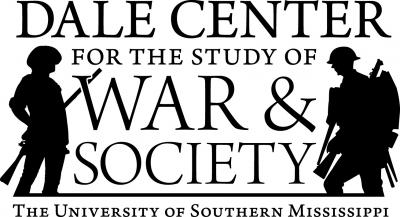 Three members of The University of Southern Mississippi (USM) academic community are recipients of the inaugural Dale Center for the Study of War and Society Research Awards, which are designed to support faculty, staff, and students in the study of historical and contemporary wars across disciplinary and institutional boundaries.
Dale Center Research Awards may be used for expenses related to scholarly research or creative activity, including travel; travel expenses to a conference, performance, or other event where original scholarship or creative activity is being presented; and relevant professional development activities.
After a committee review of applications, grants of up to $1,000 were awarded during the 2018-2019 academic year. Students (graduate or undergraduate) receive priority for at least one of the awards; faculty and graduate students with an existing Dale Center affiliation are not eligible.
Award recipients for the current academic year include:
*Keltoum Rowland, instructor of French, School of Social Science and Global Studies. Rowland's award funded a trip to France for the ceremony honoring the contributions of Hattiesburg-born WWII airman, Sam B. Dale (no relation to Dale Center's namesake). The French village of Le Mesnil-Fuguet honored Dale, who was shot down near the village in 1944, as part of its ceremonies on Veteran's Day 2018. Rowland accompanied two of Dale's nieces to the event in order to serve as interpreter and guide.
*Dr. Nicolle Jordan, associate professor of English, School of Humanities. Dr. Jordan will use her award to fund a trip to Edinburgh, Scotland for the Congress of the International Society for 18th-Century Studies (ISECS) in July. At the conference, Dr. Jordan will present a paper entitled "Maria Graham's Chilean Landscape of Independence," which explores literary texts associated with the Chilean War of Independence.
*Lauren Lassabe, Ph.D. candidate, School of Education. Lassabe's award will fund a research trip to the Richard Nixon Presidential Library in Yorba Linda, California, where she will conduct archival research for her dissertation project on anticommunist student activism during the Cold War.
"The Dale Center is pleased to support the wide variety of scholarly research, creative work, and professional activity connected with the study of war and society across the university," said USM Associate Professor of History Dr. Allison Abra, a Dale Center Fellow and coordinator of the awards program. "One of the best parts about creating the awards has been learning about the fascinating work being pursued by our colleagues and students in other disciplines, and being able to foster connections and potentially even future collaborations with them."
Based within the USM School of Humanities' History program, the Dale Center serves as a local, national, and international resource for the study of the history of warfare and its influence on both soldiers and civilians. For more information about this awards program, contact Dr. Abra at allison.abraFREEMississippi. For more information about the Dale Center, visit https://www.usm.edu/war-society.