Gulf Coast Tourism focus of Cook Library Exhibit
Wed, 05/22/2019 - 15:24pm | By: David Tisdale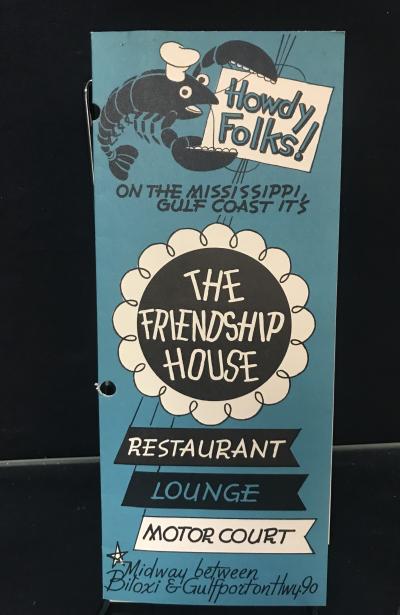 A menu from the Friendship House restaurant, a popular Mississippi Gulf Coast eatery of the last century, is one of the many items in the ongoing USM University Libraries exhibit, "Scenic South: Tourism on the Gulf Coast," that can be viewed in the Cook Library Lobby on the Hattiesburg campus through June.
As the summer travel season nears, a new exhibit at the Cook Library Lobby on The University of Southern Mississippi (USM) Hattiesburg campus examines the history of the emergence of tourism along the Mississippi Gulf Coast and beyond.
"Scenic South: Tourism on the Gulf Coast" features items from USM's Special Collections that include brochures, photos, postcards, hotel advertisements, seafood restaurant menus, among others, that show how the area's recreation and vacation destination spots, including Biloxi, New Orleans and Mobile have grown over the past 100-plus years as family favorites for travelers not just from the region, but across the country.
USM First Year Experience Librarian Hali Black, who joined University Libraries faculty and staff in October of 2018, worked with Jennifer Brannock, professor and curator of Rare Books and Mississippiana in USM's Libraries' Special Collections to produce the exhibit that runs through June.
According to Black, advertisements for Gulf Coast tourism over time serve as reminders of the unique history of "America's Riviera." With Mississippi's booming timber industry in the 1920s and steady growth of its seafood industry, more people have flocked to the state and region over the last century, connecting with the recreational offerings of its seaside communities and making tourism an important element of local economies.
The exhibit notes that prior to air conditioning, tourists frequented the Gulf Coast for its mild winters and sea breezes. Tourists also came for recreation such as swimming, bicycling, sunbathing, fishing, and sailing. During this time, grand hotels were constructed near its beaches to accommodate businessmen, tourists, and workers. While most of these hotels no longer stand, they represented an important era in the history of the Gulf Coast.
A native of Florence, Alabama, Black said developing the exhibit allowed her the opportunity to become more familiar with the area and its popular points of interest with travelers.
"With summer approaching, we wanted to do something lighthearted, something interesting," Black said, and cited copies of the 1960s travel magazine Scenic South in Special Collections, included in the exhibit, as an initial visual inspiration for the exhibit. "And I love outdoor recreation, so that was another motivation."
With the establishment in early 20th century of the Lewis and Nashville and Gulf and Ships Island Railroad lines, recreational travel in the region expanded, Black said. "When those came through our area, people started visiting different areas because it became easier to travel."
Unique, hand-drawn Illustrations of area landmarks on some of the coast restaurant menus featured in the collection also serve as "maps" with their depictions. "It really becomes more like a cultural item than a menu," she said.
For more information about this exhibit, email Black at hali.blackFREEMississippi or Brannock at jennifer.brannockFREEMississippi. For information about University Libraries Special Collections, visit http://www.lib.usm.edu/spcol/.