Haley Selected for USMs Moorman Professorship in the Humanities
Wed, 06/05/2019 - 09:12am | By: David Tisdale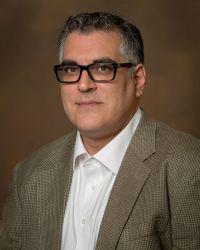 Dr. Andrew Haley's ongoing investigation into the context of Mississippi's treasured community cookbooks - the social forces shaping the lives of their contributor's food ways, recipes and world beyond the kitchen – has produced much food for thought in the consideration of an important element of the Magnolia State's cultural legacy.
Dr. Haley's research will now be nourished by his selection as The University of Southern Mississippi's (USM) Charles W. Moorman Distinguished Alumni Professor of the Humanities for 2019-21.
The Moorman Professorship is made possible by the USM Foundation, through a matching grant from the Phil Hardin Foundation and honors Charles W. Moorman, a longtime Southern Miss professor of English and Vice President for Academic Affairs in the 1970s. The professorship is awarded biennially for a two-year term to a senior professor in English, history, foreign languages or philosophy.
As part of the award, recipients receive financial support for research in their field of study, and must present a public lecture by the end of their term as the Moorman Professor.
"I am elated to be named the Moorman Distinguished Professor, but also humbled, given the remarkable scholars here at USM who have previously held the title," Dr. Haley said. "I'm going to have to hustle over the next two years to prove I am worthy."
A member of the USM History faculty in 2005, Dr. Haley holds a Ph.D. from the University of Pittsburgh. His areas of expertise include class and culture in the United States from the Gilded Age through the 1950s; popular culture; gender; food; and nationalism. He also serves as director of the USM Honors College's popular University Forum.
His work focuses on examining community cookbooks, daily dining and social class in Mississippi, borne from his ongoing research into Mississippi's unique culinary heritage and work with the Mississippi Community Cookbook Project.
Dr. Haley describes himself as "a historian who studies what people ate and what it says about them." During his tenure as the Moorman Professor, he will complete work on a project exploring Mississippi towns through the community cookbooks that civic groups and churches published.
"Dr. Haley is not only a recognized scholar in his field, but he actively engages the public in his research work," said Dr. Chris Winstead, dean of the USM College of Arts and Sciences. "His investigations of how food and community cookbooks help to shape local culture have been recognized nationally but are also highly relevant here in Mississippi."
Five years ago, Dr. Haley and Jennifer Brannock, University Libraries' Curator of Rare Books and Mississippiana, began collecting Mississippi cookbooks with the goal of preserving the state's culinary and local histories. The collection now includes more than 1,000 cookbooks.
Hidden in these cookbooks, Dr. Haley says, are stories about the resilience of our state and region, as well as the unexpected influence that our national culture has had on Mississippi and Mississippi on the nation. These stories, Dr. Haley says "are often neglected, because both the women who wrote these cookbooks and the small towns they lived in are rarely the subject of historical study."
"The Moorman professorship will also provide me with an opportunity to continue to publicize and grow the culinary collection in Special Collections at Southern Miss's University Libraries that Jennifer Brannock and I—with the help of countless Mississippians—have created."
He will also visit remote parts of the state to share stories about Mississippi's culinary traditions, and to encourage people to donate their unused cookbooks to Southern Miss.
"Partnering with Andrew on the community cookbook project illustrates the potential of cross disciplinary collaboration at Southern Miss, and, together, we have created a significant collection of cookbooks that documents the food and local histories of Mississippi," said Brannock, curator for the collection.
To learn more about Dr. Haley and History at USM, visit https://www.usm.edu/history/faculty/andrew-p-haley-0. For information about the USM College of Arts and Sciences, visit https://www.usm.edu/arts-sciences. For information about Special Collections, visit http://www.lib.usm.edu/spcol/.