Helping Children Grieve: Social Work Students Become First-Time Authors, Festival Presenters
Thu, 04/04/2019 - 02:52pm | By: Geoff LoCicero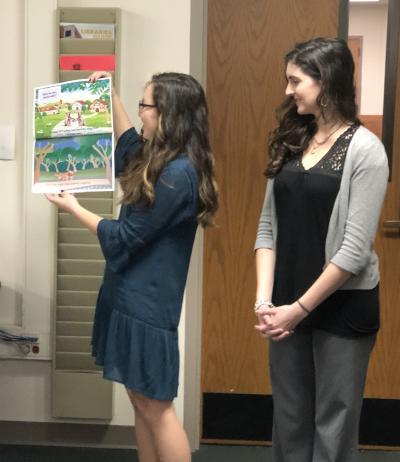 Students in USM's School of Social Work were invited to present their books on grief as part of the annual Fay B. Kaigler Children's Book Festival.
Even faculty can get tired of their own lesson plans. But a quick fix can be hard – even when you've got a great idea.
Rachel Lahasky, a clinical instructor in the University of Southern Mississippi (USM) School of Social Work, understands this quandary firsthand. But she was patient and finally introduced a new, semester-long assignment for her Social Work Grief and Bereavement class in fall 2018.
And the unexpected payoff? An opportunity for her 19 undergraduate students to present their work at a major national conference.
The twist, though, is that the conference is not for social work but is actually the Fay B. Kaigler Children's Book Festival at Southern Miss, a premier event for children's literature. The students' work in this case are books they wrote – and illustrated – that help explain different grief scenarios to children ages 7-9. They present April 4 on the second day of the three-day festival.
'We are So Excited' About Book Festival
"We are so excited," Lahasky says. "This was something that was unexpected in reaching out to various facets of the University to see how we could use the books or publicize this."
Lahasky reached out to Karen Rowell of the School of Library and Information Science, who manages the festival, to see if there were opportunities to participate in the event in some way.
"She was so interested and invited us to present," Lahasky says. "We were ecstatic. It's a huge festival, and people come from all over to present and to sign books. This will be the first time probably all our students have presented at this level. To do this as a class and highlight the work they've done, it's really exciting."
Lahasky has taught the grief class for four years, often twice a year.
"This is an assignment I've wanted to do from the very beginning," she says. "Every semester I showed up to class with blank sheets of paper and markers in hopes that at some point, students can group off and create a children's book. Just a quick little 'whatever.' But we never had time for it.
"The more I thought about it, I didn't want to rush it. I finally decided it was time to try something else last semester. It was the perfect opportunity to do a lengthier, worthwhile project."
She assigned five themes: deaths of a peer, parent and pet; divorce; and the aftermath of a storm.
'Helping Children Get Through a Loss'
Her students express a mix of excitement and nerves about the presentation. They knew they were guinea pigs as fledgling authors whose books might wind up in a school or agency working with children. But they never imagined it would go beyond that.
"When we got the email, I didn't think she (Lahasky) was being serious," says senior Alex Scarbrough, from Gulfport. "I'm super-nervous. But as it's been approaching, it's fulfilling to know we got to make a difference."
Scarbrough's book is about the death of a friend. Classmate Ashley Delancy, from Columbia, illustrated the animal characters in the books, primarily a moose, Mike, who dies and his bunny friend, Abby, who is left behind to grieve.
"I took art in high school, and they saw me drawing in class, doodling," Delancy says. "They said, 'Oh, Ashley can draw, so we'll let her illustrate it.' I was very impressed I could sit down and draw a whole book. It was super-fun to do."
The message, though, is more serious. "(The characters) would go to the park every Wednesday," Scarbrough says. "That was their special day. So the book is called Remembering Wednesday. It helps show that you can keep your routine going after someone is gone."
Stephanie Collum, from Yazoo City, was in another group, focused on a story about an 8-year-old bunny named Zach who experiences a hurricane and loses his house and a cherished baseball glove. This group used the online tool StoryJumper to create a digital version of their book, Things I Lost in the Storm.
Collum says personifying an animal is a good way to connect with young children. "I felt like that's how to reach out to kids and grab their attention," she says. "The book is about helping children get through a loss and understand what loss is, and the support that you do have. He had his dog, and his dog was able to help get him through."
Each book included a glossary that caregivers can use to help explain concepts to the children they are reading to. "It really helps focus your vocabulary," Scarbrough says. "There are things you don't think about children knowing, like 'cope.' It's not really an adolescent word, so we put a very simplistic definition: to handle or deal with loss in a successful way. It really puts you in the mindset of clients."
Even though Delancy wants to work with geriatric patients, she says the lessons of the project transcend a particular age range or client type. "This can help us in the long run, regardless of what our population may be," she says. "Understanding grief affects everyone … there are outlets and ways to talk to patients about their grief."
Providing a Valuable Resource for Children's Agencies
Lahasky sees the potential to make digital books available in the future to agencies like Kids Hub Advocacy Center, Canopy Children's Solutions and pediatric or mental health facilities working with children. Foster and adopted children are a group whose grief needs can easily be overlooked, she says.
"When a child gets adopted, we look at it as a beautiful thing, and it is. But the reality of what we don't think about is what some of the kids have been through – a lot of trauma and loss in their lives. Even though they've gained a family, they've lost so much of their childhood. There's grief for these children. Most of the time that is not explored and processed."
Lahasky hopes to work with future classes to refine new book content so it is highly relevant to agencies. But she's also open to any immediate interest that may come from the book festival.
"Now that I see how the assignment went and where we need to go, there are some things that need to be tweaked before we send to agencies. They came out great, but with any assignment, we want to make sure it's the strongest content. It will evolve semester to semester.
"I imagine we may have interest at the festival. There will be representatives from schools, libraries, children's agencies. They may want a book on the spot, and then we'll find a way to get it to them electronically."
Student Groups and Books
Ashley Delancy, Heather Allen, Alex Scarbrough, Karla Danner; Illustrator: Ashley Delancy – Remembering Wednesday
Michaela Andrews, Kayla Hopkins, Nytarica Braxton, Mariah Boyd; Illustrator: Kayla Hopkins – Paw Prints on My Heart
Kelly Arnold, Amanda Haag, Sky Singleton, Jillian Whittle – A Ruff Walk in the Park)
Summer Gonzalez, Jill Phillips, and Brian Beck, Illustrations: Tony Gonzalez (parent) – Tilling Up Grief with John and Kubota
Stephanie Collum, Megan Turner, Cierra Sprowell, Anthony Cefalu – Things I Lost in the Storm)
--
Learn more about the USM School of Social Work.