A Miracle: Social Work Student Flourishes Following Years of Addiction, Incarceration
Tue, 04/30/2019 - 09:14am | By: Geoff LoCicero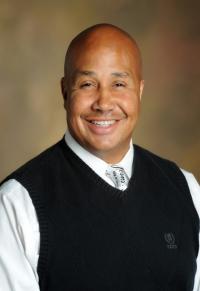 Sidney Smith
At his lowest point as an addict, Sidney Smith would eat out of a garbage can, dreaming about moving to South America so he could cultivate his own drugs.
It was a pipe dream, of course – a crack pipe. The stark reality was this: Eating garbage meant more money to feed his drug habit.
"It was predominantly crack for me," he says. "I did other things, but nothing really stuck like crack. It was my drug of choice. I don't understand and can't put it together. What I can remember feeling and saying is, if I could move to Colombia or Peru, I could grow and make the stuff. It felt good to me, and I enjoyed the euphoria."
Over a 27-year period, Smith spent more than 13 years in prison in Louisiana and Mississippi for drug-related felony convictions. He could never get clean despite at least 10 rehabilitation stints, either relapsing after graduating or getting kicked out before completing the program.
Today, though, Smith, 49, is seven years sober. He's about to become a two-time graduate of The University of Southern Mississippi's School of Social Work, has had his voting rights restored and has navigated extensive bureaucratic processes to become a state-licensed social worker and to meet security clearances to intern as a graduate student with the VA Medical Center in Biloxi. He will earn his master's degree in social work May 9.
"I don't have a desire to get high," the Gulfport resident says. "I can honestly say those thoughts don't plague me. With my job, I often go to meetings and have to take clients, and I hear other people in the room speaking about themselves as addicts and struggling with the desire to get high. I don't have that anymore. I don't know how to explain it – I know that's a miracle."
'Taking Hope One Pinch at a Time'
Smith grew up in Oakland, California, in a "good home." But his father disappeared when he was born, and an older brother who spent most of his adult life in a penitentiary ultimately disappeared as well once he was released, never to be located by the family. "My mom, she worked and struggled to do the best she could for me," Smith says. "And I had a pretty good upbringing."
He says too much free time and falling in with a wrong crowd led to him skipping school by the time he was 10 and then experimenting with alcohol. He would sip from a liquor bottle at his home and replace it with water, so no one noticed. "That was the first real involvement with substance abuse that I can remember," he says. "It was there, it smelled good, and I did like the taste. From there it turned to weed and kind of snowballed."
His first criminal offense was selling crack to an undercover narcotics officer. He was addicted somewhere between ages 16 and 18 – he can't remember for sure.
"I always went back to it," he says. "By my math, it was 27 years of continuous hard drugs, including alcohol. When you're addicted to crack, you're stealing things and either dropping out of school or getting kicked out."
With an outstanding warrant for his arrest in California, Smith fled to Mississippi in 1993. "I have relatives all over the state, so I thought I could run and hide. But I was the same person here, a drug addict, a criminal. I wanted a life of drugs and found my way down to Hattiesburg, and then the Coast and got reacquainted (with drugs). I kicked off the same lifestyle within 4-5 months of being in Mississippi.
"I really can't explain to you how I could do something over and over again, literally not caring if it took my life or gave me a heart attack, knowing I would go and eat out of a garbage can to keep whatever money I had for crack. How do you explain something like that? It's sick, it's backward, it's wrong."
His wife, Judy, recently recounted an incident when he was an addict. "She told me something I obviously had forgotten. It was like I put it on a shelf and did not want to deal with it. … One day, law enforcement called her, and I was at a park and had taken off all my clothes and was yelling at the top of my lungs. I still can't recall that day. I know it happened because she told me they called her.
"I remember waking up many times and not knowing where I was or how I got there. That was a very depressing time to look back on."
When he tried – and failed – with treatment or rehabilitation, he felt like he was sinking deeper into a life with no future. "Literally, there's a number for that – 10-plus rehabs. If you ask me, I could give you the names of 10 different buildings spanning five different states where I entered rehab. I was just going through the motions of trying something, failing, trying something, failing and going back and forth to try to stop it.
"I don't know how to describe it. It almost feels like someone is reaching down inside and pinching off a little more life every time you fail. Taking hope once pinch at a time. I went back to drugs just that much more hopeless of being able to shake it. That's a known cliché with drug addiction – they say the last time is always worse than it was before. That was real to me, and that's how I try to explain it for someone who is not a drug addict. It's just taking life and hope from a person and them being pushed down even further, thinking they'll never become free of this.
"I did try, and I did give everything to stop hurting myself and people around me, stop being a menace and nuisance to society. I was trying to take it seriously until later in the game. I gave up hope and gave in to the idea I would always be a drug addict all my life."
The only break in the rehab routine came when he was incarcerated. He served 2½ years at the Phelps Correctional Center in Louisiana between 1996-98 and an additional 11 years at the South Mississippi Correction Institution from 1999-2010.
Treating the Spiritual Soul, Not the Addiction
It would take more than a 30- or 60-day rehab program for Smith to get clean finally. And, he says, divine intervention that overcame his initial cynicism and plotting.
It was 2011, and Smith was confronted with a return to the state penitentiary. Instead, he found a faith-based treatment center, Mercy House Adult and Teen Challenge, in Georgetown, Mississippi, that offered a 14-month program.
"I conjured up a plan to try to manipulate my parole officer not to send me back to the penitentiary. I came up with the fabulous idea of, 'Let me go here.' It was one of those master manipulator things I'd been doing my whole life. I didn't believe I'd get clean or stay. But he accepted."
What Smith found at Mercy House, though, was an atypical program that focused on his spiritual needs rather than explicitly his addiction. There was an immediate connection for Smith.
"I can 'blame' it on Christ," he says. "It's what I choose to believe was the turning point for me.
"I think that God is real and that salvation and eternal life is real. I believe that the process of going to the treatment center and focusing … that treatment center, unlike every other one, focused on an identity of what God said about Himself and about me, and the whole focal point was to identify myself with Christ in giving me an identity. The other facilities all focused on my problem with crack and drug addiction. This center never talked about addiction, period. I grabbed hold to that and embraced that.
"A lot of the hopelessness was rejection from the world because I wasn't able to live up to the standards or be accepted in society because it was frowned upon. The criminal activity … I'd always be a junkie, a loser a deadbeat dad, all negative. God didn't have any of that; He embraced me exactly where I was and loved me as I was. It wasn't something that the world offered; it was an infusion, it was life to me."
Smith says the effect was like having his physiology rewired.
"I smoked cigarettes my entire life, as far back as I can remember. I literally hate the smell of cigarettes now. It makes me sick to smell it. I know that comes from something inside my brain changing. And it's the same with drugs. It's almost like deleting something out of a computer and changing the default. I now default to worshipping God and wanting to please God, or just honor Him with my behavior, thoughts and lifestyle."
He also credits his wife, who stuck with him throughout years of addiction and with whom he celebrated 25 years of marriage in April. "Over the years of her continuously staying with me and embracing me through the ignorance of drug abuse and prison, she taught me how and what love is," Smith says. "Between her and God, those are the two. We have our struggles, ups and downs, disagreements. We're able to resist and withstand a lot more than probably the normal couple. Where someone else might have been divorced three times, we've been able to walk through it."
Social Work: 'Everything That I Wanted'
Following the completion of his treatment at Mercy House, he returned to Gulfport and became a volunteer, and eventually an employee, at Feed My Sheep, a soup kitchen. He worked there for two years, coordinating donations from local businesses and supervising court-ordered volunteers doing community service at the kitchen. Some of them, he says, were people he used to get high with.
"They knew God had changed me, so they could look at me and tell. I liked those interactions where I didn't have to say anything. They were standing with their mouths wide open. The truth is that I can't change anybody, just like they couldn't change me. I went in with the mentality of planting seeds. It was up to God to bring the increase and make a change in them."
Smith had also earned his GED and then enrolled at Mississippi Gulf Coast Community College, where he went on to become a President's List Scholar and to graduate with High Honors and a 3.9 GPA. He began at Southern Miss as an undergraduate in social work in 2015.
"Nursing was on my radar," he says. "I did some research and found out that maybe a hospital would give me trouble; hospitals probably wouldn't hire me because of my felonious background. But social work appeared, and it was everything that I wanted."
Dr. René Drumm, an associate dean, and professor of social work on the Gulf Park campus, remembers being struck by Smith's depth when she interviewed him as a prospective applicant to the social work program.
"He was a really an interesting person to interview because he is naturally gifted as a speaker, but some of the questions when I probed, he really stopped to think about it, and think deeply. And that really impressed me."
Smith has left an indelible mark during his time at Southern Miss:
President's List nine consecutive semesters
McNair Scholar
Honors College
Social Work Award of Merit, 2017-18
BSW Club-Gulf Park President, 2017-18
Undergraduate Social Work Student of the Year, 2018
Undergraduate Research Prize, second place, 2018
Magna Cum Laude graduate with bachelor of social work degree, 2018
National Association of Social Workers-Mississippi Empirical Research winner, 2019
Graduate Student Research Symposium, second-place winner, 2019
Council on Social Work Education Minority Fellowship, 2019
'You Could Really Tell How Well Liked He Was'
Social work majors have to perform a 40-hour internship before officially starting the program, and Smith wound up in a place that was all-too familiar to him: Harrison County drug court, where he was originally sentenced in 1999 to a 20-year term at SMCI.
"Unbeknownst to the school, they sent me back to the exact same courtroom, which in itself is pretty cool," he says. "It's another unique factor that I think only God could do."
Smith also used his personal experiences as a way to frame his Honors College research project, working with Drumm as his adviser to study whether religion or spirituality leads to more successful addiction treatment, as measured by retention and completion rates.
"There's no doubt he will be amazingly successful in his career, just as he was in his career as a student in our program," Drumm says. "He will make a difference for people in how they look at addiction, how they look at overcoming barriers and even over minority issues, I believe because he's a real advocate on that front as well. He's overcome more obstacles than many of us face in a lifetime. I'm very proud of him."
Karen Aderer, a lecturer in social work on the Gulf Park campus, praises Smith's social skills in networking and making a real connection with everyone he meets. She punctuates stories about his prolific fundraising skills with laughter over the absurdity of how much money he raised: $2,000 for a Golden Basket project that provides food, clothing and other gifts to needy families on the Coast at Thanksgiving; and nearly $1,000 more at the Gulf Park campus' annual Jazz and Blues Festival.
"Sidney asked me if he could sell these wooden door decorations that had different university names like you hang on your wall or door and it's for USM or LSU," she says of the festival fundraiser. "He wanted to rent a table and sell the items that were donated from an addiction rehab program where he volunteers. I found out it was $50 to rent the table, so I said, 'Sidney, do you think you can sell more than $50 worth?' And he said, 'Oh, I think so.'
"He ended up selling $850 worth. I went by the table, and every time he was talking people up, and they were engaged. And they were flying off the table. He definitely has good people skills, and he will talk to anyone.
"He's one of those people that can talk to a homeless person just as effectively as he could talk to a king or a CEO of an organization. He arranged for the BSW Club to be servers at Feed Our Sheep, and I could not believe that everyone who came through the line, he knew them. He remembered names, and he knew to ask how their mother was or how their new job had worked out, minute details that are the sort of things that maybe other people would have said, 'Oh, these are homeless people, poor people.' … Every one of them, he treated like they were a queen or king. I was so impressed by that, and you could really tell how well liked he was."
'Nobody Has Gotten Right Better Than Sidney'
Leonard Papania was not convinced.
The first time Gulfport's chief of police met Sidney Smith, he wasn't sure he completely believed Smith's story. It was at a gathering of community churches about three years ago, and Smith was selling wooden crosses – fundraising again.
"My interpretation was it was part of his recovery," says Papania, a 28-year veteran of GPD and the chief since 2013. "I am your typical cop and was skeptical of his story – maybe it was just another line to sell something. We talked for a little bit, and I moved on. You hear Sidney tell the story, and I didn't buy a cross."
They continued to cross paths occasionally, and Papania says he began to pay closer attention because of a family member who was struggling with addiction.
"The next time I saw him, I was speaking at a recovery center where he worked. We recognized each other again, and it gave legitimacy to what I was skeptical about before. We talked while I was there. Then another time, I was asked to speak at a church, and he was upfront with us and was actually playing the piano and signing, and quite beautifully. At that point, I knew he was for real. I had him tell me his whole story again."
Papania says they were unable to determine if they had previously crossed paths during his time as a narcotics officer and when Smith was an addict. But now they see each other regularly, and Papania considers him a friend.
"When you look at Sidney, he epitomizes everything we demand of those people who are in criminal lifestyles," Papania says. "We always tell everyone to get their life right, and nobody has gotten right better than Sidney. I mean, not only did he pull himself together, but he is now an accomplished academician and very much involved in saving the community he was a part of. His story is the most impressive thing."
Papania was such an advocate for Smith that he and Smith's former parole officer, Steven Gill of the Mississippi Department of Corrections, drove to Jackson to support Smith as he was trying to become a licensed social worker by the Mississippi State Board of Examiners of Social Workers and Marriage & Family Therapists.
"He asked me, 'Would you write a letter on my behalf because of my criminal record?' " Papania says. "I said, 'I want to go up and testify.' I wore my dress uniform to make an impression on his behalf."
Smith also got in-person support from Ed Blakeslee, former president of the board of trustees of the Institutions of Higher Learning, which oversees Mississippi's eight public universities; and Dr. Virginia Adolph, past president of the board of examiners. It took that extraordinary effort to finally convince the board, which hadn't initially granted Smith's licensure.
"I had done some research to figure out, well, all my crimes are old, 19 to 20 years since I was convicted," he says. "I knew everyone knew how God had changed my life. It was a no-brainer for anybody looking at the paperwork that says who I was and my schooling and my accomplishments: This has got to be a different person. I thought the board would be able to see that, but they didn't.
"I understood they have a responsibility to protect the public and make sure I'm not going to go out with a license and cause harm from things in my past. It's a practical, very serious concern. They never disclosed to me exactly why, though."
In the end, Smith both passed the licensure exam and addressed the board's concerns, and received confirmation in September 2018 when he called Billy Dilworth of the state board.
"I asked if they had made a decision and he said, 'Yes, hold on.' It seemed like an eternity, but it was probably 40 seconds. He came back and said they had approved my licensure. I got emotional, yes.
"I doubted, I stressed. I knew that I wanted it because it would help to calm a lot of what was going on inside me as far as a career in social work. I could just rest and go forward without having to worry about that as an added weight."
His confirmation for a two-semester internship at the VA dragged out until right before he needed to start last fall. He eventually got a letter and a badge from the federal government with a May 2019 expiration date, which took him through this spring.
"The only thing not at the VA is kids," Smith says of the services. "There's medical, psych wards, gerontology, dementia, short term, acute. If you can't find a passion there, you haven't got one. One of the things that really excited me about the opportunity to go there was something Ms. Aderer shared with us about how more war veterans come home and kill themselves than are actually casualties of war. You can make a difference there."
'The Hope My Story Provides'
By his own account, Smith has no scars, physical or psychological, from his years as an addict.
"I don't recall anything traumatic as a result of what I've been through in my life," he says. "What I've been told and what I know to be true is that every social worker needs a social worker. I need help and periodically seek out counseling from friends and other social workers about different issues. As far as being traumatized or needing medication or continuous intervention or help, no, I haven't come to that bridge."
He has a relationship with his son from a previous relationship, the son he once abandoned; Jordan Jamal Lion, 25, graduates in May from the University of Central Florida.
"He actually calls me Dad," Smith says. "I'm proud of him. I never did anything for him – I sat there for 13 years of his life in a penitentiary, and he had every reason to be angry and hate me. But he tells me he loves me. I left him and his mother practically homeless so I could get high – the crack was more important to me than my flesh and blood."
Smith says the relationship with Jordan's mother is irreparable. But Smith is close with his own mother, Gloria Mills, who moved to Mississippi from California to take care of Jordan when Smith went to prison.
"It was terrible through the years for her," he says. "I don't know how to put it in words, watching somebody you love destroy themselves, and you can't do anything about it. It must have been super tough for her. She's definitely forgiving, very supportive and loving."
Smith even keeps in touch with Gill, his former parole officer, who considers Smith more like a co-worker these days.
"It's a very rare, very uncommon occurrence to stay in touch after the fact," Gill says. "He has kept me up to date on his progress, his education. You always want to hear good things are happening to somebody. I've invited him to speak at functions we've had and the classes we teach with MDOC. He provides inspiration and motivation to people who are going through a similar situation to what he's been through.
"I guess what stands out the best is that he didn't come out and carry that institutionalized mentality that you fear for those who have spent several years in prison. I didn't witness him having that. He's been able to come out, gain employment, go back to family life and prosper. I don't want to say it's unusual, but it's not necessarily expected. The thing I recognize and appreciate about him is that he doesn't let obstacles get in his way and hold him back. He finds ways over, under or around. It's inspiring."
Smith can look back to a time not long ago, when he was a still an addict and couldn't envision a scenario where he would find his way out, much less flourish as he has.
"If you had told me all this eight years ago, I would have thought you were high, that you were on drugs," he says. "It's nuts, absolutely nuts. I'd have laughed at you.
"The biggest thing to me is the hope my story provides. Based on what I'm learning about social work and substance abuse, there is a void of hope. Drug abuse is pretty huge in our society. I'd go so far as to say every family in American has been affected one way or another.
"For someone to provide a way of escape gives hope, an immediate infusion of hope, like an injection. That's the basis for me. It's a drug for me, to be able to look someone else in the face and really speak to their desperation, to know where they are and what they're feeling at that moment. And to gather it up and say, 'It doesn't have to be that way.' "