National Interscholastic Summit Addresses School Safety and Security Issues
Tue, 03/12/2019 - 08:58am | By: Alison Crumpton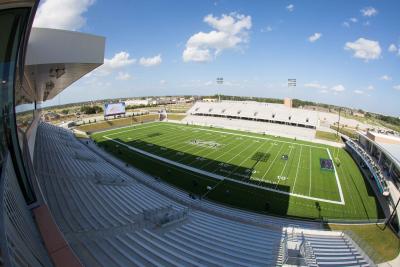 Legacy Stadium at Katy Independent School District (Texas).
More than 100 safety and security officials from high schools across the country will be in attendance for the fifth annual National Interscholastic Athletics and After-School Activities Safety and Security Summit.
The event is being held April 3-5 at Katy, Texas, and is hosted in conjunction with Katy Independent School District and The University of Southern Mississippi's National Center for Spectator Sports Safety and Security (NCS4). The title sponsor for the event is Honeywell Building Technologies, a leading global manufacturer of access control, video, intrusion and cloud-based security solutions for commercial, industrial, institutional and education facilities.
Event attendees will include superintendents, principals, athletic and facility administrators, fire/HAZMAT, emergency managers, law enforcement personnel and school resource officers.
The summit provides a mechanism for safety and security professionals at the high school level to share ideas and explore solutions to implement best practices. The summit will focus on the critical safety and security challenges facing athletic and after-school programs and play a key part in developing industry best practices.
Key discussion topics will include:
Event Day Planning
Crowd Dynamics
Emergency Planning
Risk & Threat Assessment
Facilities Design and Technology
Staff Development
A highlight of the event will be a keynote by Max Schachter, Founder & CEO of Safe Schools For Alex. Schachter's son, Alex was one of the first victims of the February 14, 2018 Marjory Stoneman Douglas High School Massacre in Parkland, Fla. To date, it is deadliest shooting at a high school in the United States, where 14 children and 3 adults lost their lives. Ever since Alex passed away Max has been focused on creating National School Safety Best Practices.
Schachter says, "For the last 60 years we have had fire codes to prevent children from dying in a school fire and it has worked. No child has died in a school fire in 60 years. It has been 20 years since Columbine and we still do not have national school safety best practices."
NCS4 director Dr. Lou Marciani agrees that there is still much to be done in developing safety and security best practices. "The tragic incident at Marjory Stoneman Douglas High School has forever changed the way we will provide safety and security for our schools," says Marciani.
"There has been an overwhelming outcry for school districts to find solutions to better implement best practices. This Summit provides the environment for the country's thought leaders to study the critical safety challenges facing athletic and after-school programs and enhance the best practices for the nation's schools."
Mo Canady, Executive Director, National Association of School Resource Officers, will also be speaking on standards and best practices for school resource officer programs. Other topics being discussed at the summit include event planning, safety and security liability, trends, guidelines, technologies, and managing stress/family life.
For more information about the Interscholastic Summit, visit www.ncs4.com/interscholastic. Limited seating is available.