School of Education to host Book Talk by Southern Miss Alumnus
Tue, 04/02/2019 - 15:04pm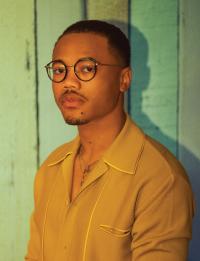 The School of Education at The University of Southern Mississippi (USM) will host a free book talk by USM alumnus Julian Walker Thursday, April 4 from 6-8 p.m. in the Shelby Thames Polymer Science Auditorium on the Hattiesburg campus. A local actor, author and activist, Walker will discuss the collection of poems in his work "A Year Without You," in which he chronicles his journey toward personal healing.
While a student at USM, Walker was in two main stage theatre productions, "Rent" and "Spring Awakening." He was also a member of Golden Eagle Welcome Weekend (GEWW), Southern Style and Men of Excellence. As a sophomore, his acting abilities caught the attention of another USM alumnus, writer-director Patrik-Ian Polk ("Punks," "Noah's Arc," "The Skinny"), earning him the lead role of Randy Rousseau in the movie "Blackbird," in which he co-starred with Oscar winner Mo'Nique Hicks and veteran actor Isaiah Washington.
Since "Blackbird," Walker has appeared in numerous TV series, including "Saints and Sinners" and "Being Mary Jane." In 2017, he received the Gentlemen of Promise Award from The Gentlemen's Foundation.
For more information about this event, contact Martha Resavy at martha.resavyFREEMississippi. For information about the USM School of Education, visit https://www.usm.edu/elementary-special-technology-education.