Second Social Work Grad Student Earns Prestigious National Fellowship
Thu, 02/21/2019 - 01:52pm | By: Geoff LoCicero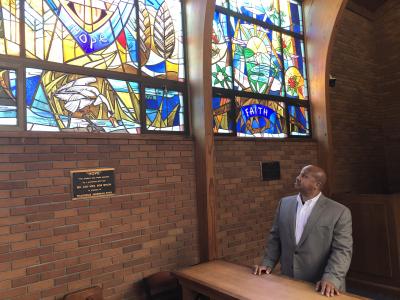 USM graduate student Sidney Smith has been accepted into the Council on Social Work Education's Minority Fellowship Program.
When University of Southern Mississippi graduate student Sidney Smith learned he had won a national social work fellowship, the first thing he did was call the one person who would best understand what he was feeling.
When Smith was assembling an application last fall for the Council on Social Work Education's Minority Fellowship Program for master's students, he leaned on Southern Miss alumna Evelyn Sullivan, who a year earlier became the first Mississippian to be named a fellow in the program's four years.
Smith credits Sullivan with helping him get through the application process. "She basically schooled me about how to go through the process," he says. "She was very supportive, and I'm very grateful for her help."
Sullivan's reaction to the news that Smith would be following in her footsteps as a 2018-19 CSWE fellow? "She was very excited, very excited," he says.
Sullivan, who graduated last May with her master's in social work and is working as a mental health clinician at Gulf Coast Mental Health Center in Gulfport, says she was "overwhelmed with joy" for Smith. "It's so good that someone else from our university and program was able to get this award as well."
While Sullivan was the lone Mississippian among the first 160 participants, this year Smith and Jackson State student Carla Baskin are among 41 new recipients. The federal Substance Abuse and Mental Health Services Administration helps underwrite the fellowship program to improve professional diversity as well as support for underserved populations.
Smith is counting on both the financial award – between $7,000 and $8,000 – and professional development opportunities such as seminars, webinars and a trip to Alexandria, Virginia, that come with the fellowship.
"It's definitely giving me insight into all that's out there that's available to me," he says. "Instead of just what's right here locally on the Coast as far as mental health. It's given me a wide array of opportunities that are outside of just this area."
Mostly, he says, he is humbled and thankful for the award.
"It means humility to me, being very grateful. Because I needed the help to continue school. Most of my schooling here, from undergraduate into graduate school, has been funded by scholarships, grants and loans, of course. I would not be here otherwise."
Sullivan says the benefits are ongoing, citing a resume boost, the network of participants and continued access to resources such as newsletters and webinars that are not otherwise available. "The fellowship definitely made me more competitive in the job field. When you interview, it's definitely a conversation starter and gets people intrigued."
Karen Aderer, a social work lecturer at the University's Gulf Park campus, says Smith and Sullivan – both Gulfport residents – epitomize the kind of hard-working, overachieving students Southern Miss attracts.
"It's just really impressive, and it makes me proud of our students that they are also such go-getters; they're scrappy. One of the things I love about teaching at the University of Southern Mississippi … I've always said, we have students who know what it means to roll coins to make rent.
"We have a lot of nontraditional student like Sidney and like Evelyn. They come into our classrooms with a wealth of information, experience and less judgment, I think, because many of them have known poverty or known desperation or they have struggled. … It's wonderful to see that pay off in terms of them receiving these honors, having these opportunities and, of course, receiving funding to be able to afford an education."
In Smith's case, the 48-year-old overcame a 27-year addiction to drugs and alcohol that included 13 years in prison and 10 stints in rehabilitation before he finally got sober in 2012 with a faith-based treatment plan.
"Sidney has always been very up front about his story and where he came from and what he's overcome," Aderer says. "He's also very, very upfront about his faith and how he credits his faith to all he has overcome."
Smith made the most of his opportunities as an undergraduate, working on an honors project as a junior and earning a McNair Scholarship as a senior.
"Sidney was a great fit for the McNair program because he was serious about his desire to pursue an advanced degree in social work so he could help improve the lives of disadvantaged people, and he excelled at the program," says Dr. Karen Coats, dean of the Graduate School, which oversees the McNair program. "He is clearly motivated by empathy and compassion for others.
"His selection to receive the fellowship is a tremendous accomplishment that reflects so well on Sidney's performance as an MSW student and also on the quality of our social work programs here at Southern Miss. I am so proud of him."
Dr. Rene' Drumm, associate dean of the College of Education and Human Sciences and professor of social work at Gulf Park, interviewed Smith when he was applying as an undergraduate and also was his adviser on the honors project, in which he studied the impact of faith and spirituality on treating addiction.
"He is naturally gifted as a speaker. But some of the questions, when I probed, he really stopped to think about it, and think deeply. And that really impressed me.
"I have the reputation, probably rightfully so, as a tough evaluator. My name was going to be on that honors project, so I did not let anything slide. I gave him all the feedback he needed to make it excellent work, not just good work. And that's a lot. It can be discouraging for some students. But Sidney took all the feedback and took it well and just made an amazing project out of something that was difficult. I was proud of him."
Smith, who is in the second semester of his master's internship at the VA Medical Center in Biloxi, says he is unsure about what comes after graduation in May despite an obvious interest in substance abuse and mental health because of his own experiences.
"That changes as the education comes and they teach me more," he says with a chuckle. "My dreams get bigger. I've always heard and believe that when I tell you my dreams, if you don't laugh in my face, they're not big enough. Those are things that keep me motivated and going. There's so much I can do that I'd like to try. I just have to pick one instead of five and just focus on that."
--
Learn more about the USM School of Social Work.