With Shortage of Social Workers, Grant Project Provides USM Grad Students Real-World Experience
Wed, 02/13/2019 - 10:01am | By: Geoff LoCicero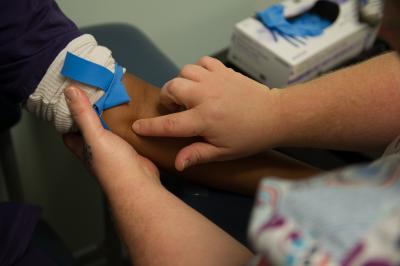 A nearly seven-year grant project enabled USM social work students to gain invaluable experience in collaboration with Coastal Family Health Center.
Too few social workers in South Mississippi is a problem – but also an opportunity, judging from the results of a recently completed grant project between the University of Southern Mississippi and Coastal Family Health Center.
Over nearly seven years, eight full-time social workers and a total of 82 master's-level social work students teamed up with health providers at seven of Coastal's 13 clinics in South Mississippi, creating a model for integrated care by providing indispensable mental and behavioral health services to patients.
Health providers at Coastal uniformly expressed their support for the program and the benefits of having onsite social workers, many of whom also helped develop care management and education plans for patients with diabetes, high blood pressure and obesity.
Changing How Social Workers Are Viewed
"Oh, no, certainly not," says Hoyt Williamson, a Coastal family nurse practitioner in Moss Point, when asked if he knew the scope of social workers' expertise. "I had this tiny little myopic view of what it was in healthcare, and now I know that social work is a big dimension of it."
Darryl Adams, a Coastal primary care nurse practitioner in D'Iberville, echoes that sentiment. "I didn't realize" what social workers could do, she says. "I was just wishing for behavioral health care for mental health problems, but knowing they could do chronic care counseling and help with that was wonderful.
"We even have some of our social workers who do diabetes education for our patients, diet counseling, lifestyle changes, things like that. It's much more broad than I thought it was. So I am really happy to know that."
In many cases, social workers have to act as detectives to try to find out more about underlying issues that might be affecting patients' physical or mental health.
"I have a large amount of families with a lot of discord," says Dr. Wendy Williams, a pediatrician in Biloxi. "They are low socio-economic, divorced parents and such. So a lot of times when I'm talking to these families and these kids that are coming for stomachaches or headaches. … When you really start to get down to what is going on, it's 'Oh, Grandma died,' or that sort of thing.
"So having the ability to go get a social worker and say, 'Hey, here's what's going on. Do you mind?' And doing that handoff, where they can go and address those things and then follow up with them afterward. … I think a lot of times there is so much more going on below the surface. Now that we have a social worker, we can really get to the bottom of that."
Southern Miss Filling the Increasing Demand
Social workers are in high demand because of these skill sets – a need that the Southern Miss School of Social Work is helping meet, says Dr. Tim Rehner, principal investigator for the completed project, known as the Mississippi Integrated Health and Disaster Program.
"There's more capacity for individuals who have been trained in an integrated environment. We know that to be true because it's just hard to hire social workers, period … not just social workers with experience in health; just to hire social workers that are licensed," he said.
"I think we've increased the number of personnel who would be qualified to work in health settings. The School of Social Work has been doing that. But the need in south Mississippi is greater than our capacity to produce students right now. But I think we've addressed it at some level, particularly around that field of practice, which is the emerging health arena for social workers."
At a national level, growth of social workers in healthcare and medical environments is expected to grow 20 percent from 2016-2026, according to the National Association of Social Workers. Data from NASW's October 2017 "Profile of the Social Work Workforce" publication show 22.1 percent of social workers in North America work in the medical field – but only 7.8 percent in outpatient care centers like Coastal and only .1 percent in the offices of physicians.
Mississippi ranks 28th in the nation in number of social workers at the master's level, according to NASW. Juxtaposed against population, Mississippi is 46th in total number of social workers per 1,000 residents (1.19) – a ranking that is even more problematic given the state's 21.9 percent poverty rating that is the nation's worst.
Students Gain Experience, Coastal Gets More Help
That's why projects like MIHDP, an award that was part of the medical settlement from the Deepwater Horizon oil spill, are important for clinical experience for social workers and social work students.
"We've done a lot of training for students, "Rehner says. "When they've graduated, they've worked in social services, health systems, and have some sense of how to do integrated care."
Coastal's Dr. Michael Dorcik, the chief medical officer, and Larry Knight, the chief operating officer, say the integrated social work component was good for patient care and good for business.
"USM with their crew has just been phenomenal," Dorcik says. "It's not only the full-time ones, but a lot of students that came in here are learning right in the ditches, I guess you could say.
"I hate to say this term, but they are almost free labor. I mean, they are working under the university, but they are on hourly pay, and they are almost as good as some of our counselors. Right up the street, they have a university that's training these people, so use it."
Says Knight: "I think that the partnership has been very beneficial for both USM and Coastal, and not only in the area of students; we bring students in under the full-time social workers, so it also gives Coastal an opportunity for potential future recruitment. We are training the social worker students in our clinics.
"Social workers are really key and tuned into social determinants of health, so they understand and can address more specifically those social challenges that directly relate to poor health outcomes."
A Positive Impact for At-Risk Mississippians
Rehner says a primary goal of the oil spill legal settlement, which resulted in the formation of the four-state Gulf Region Health Outreach Program that funded MIHDP, was to target vulnerable populations most affected by the disaster.
"The lawsuit really directed us toward a federally qualified health center like Coastal, which was a really wise decision by the legal teams," he says. "That's where the majority of underserved persons go for treatment. Since a lot of the impact of the spill was psychological and emotional, they wanted to provide behavioral health in that context. We've really built an integrated system of delivery that I don't think anybody has seen.
"I've always been interested in doing something that would make a difference in Mississippi. That's why I came here 25 years ago. This was the silver lining, if you will. The redemptive piece of the disaster is that there were dollars, and some really good things could come from that. It's been an exciting opportunity to build this.
"The notion of integration, we're going to see more of that going forward. I'd like to see it spread. Sustained and then spread. And I think the School of Social Work is in a good place to help do that."