Society for Military History selects Ural as Board Trustee
Tue, 04/09/2019 - 15:09pm | By: David Tisdale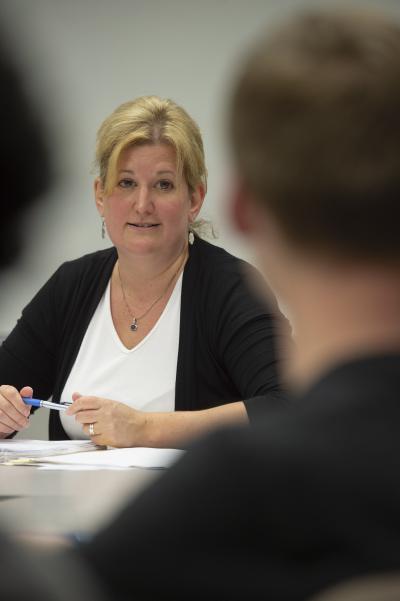 USM history professor Dr. Susannah Ural has been chosen to serve on the board of trustees for the Society for Military History (USM photo by Kelly Dunn).
An organization devoted to advancing the study of military history has chosen one of its longtime members and University of Southern Mississippi (USM) educator to serve it in an important and prestigious role.
Dr. Susannah Ural, a professor of history at USM and widely recognized expert on the American Civil War, was recently named to the board of trustees for the Society for Military History (SMH). Established in 1933 as the American Military History Foundation, renamed in 1939 the American Military Institute, and renamed again in 1990 as the SMH, its membership has included many of the world's most prominent scholars, soldiers, and citizens interested in military history.
Dr. Ural, who is also co-director of USM's Dale Center for the Study of War & Society, has been a member of the SMH for nearly 30 years and served the organization in several capacities, including as its current chair and member of the editorial board of the Journal of Military History; of its membership committee; and as one of the key organizers of its 2013 annual meeting in New Orleans.
She also brings considerable experience to the board from her service to other academic organizations, including as vice president and president of the Mississippi Historical Society, and her time on the editorial boards of Civil War History, War and Society, and The Journal of the Civil War Era.
Dr. Ural believes her long history of professional service will allow her to offer both thoughtful counsel and fresh ideas to SMH leadership about the important issues facing it going forward. Her colleague, Dale Center founder Dr. Andrew Wiest, has also served on its board of trustees.
"This is an exciting time to be a part of the SMH as we work to better serve the Society's and our members' needs in a number of ways, including continuing our commitment to advancing active scholarly engagement in the field; assuring that the study of military history remains relevant to citizens, educators, members of the armed forces, and policymakers; helping recent graduates find employment in a challenging job market; and growing our organization by engaging new groups of potential members, including the large veteran population in this country," Dr. Ural said.
Dr. Ural holds a B.A. from the University of Vermont and an M.A. and Ph.D. from Kansas State University. At USM, she has earned its Charles W. Moorman Distinguished Alumni Professor of the Humanities and Buford "Buff" Blount Professorship in Military History. Her publications include The Harp and the Eagle: Irish-American Volunteers and the Union Army, 1861-1865 (2006); as editor and contributor for Civil War Citizens: Race, Ethnicity and Identity in America's Bloodiest Conflict (2010); Don't Hurry Me Down to Hades: Soldiers and Families in America's Civil War (2013); Hood's Texas Brigade: The Soldiers and Families of the Confederacy's Finest Combat Unit (2017).
In addition to the Civil War, Dr. Ural's other areas of expertise include military history/war and society and 19th-century U.S. history.
"Dr. Ural's election to the Society for Military History's Board of Trustees is a tribute not only to her impressive scholarship and longstanding leadership in the organization, but also to the Dale Center," said Dale Center co-director and associate professor of history Dr. Kyle Zelner. "As the world's premier academic organization for scholars of military history, in many ways the Society shapes the field. As a trustee, Dr. Ural will play a crucial role in that work for years to come."
For information about the USM History program, visit https://www.usm.edu/history.