Special Collections Student Curator Program Offers Research, Exhibit Presentation and Production Training
Thu, 01/17/2019 - 02:46pm | By: David Tisdale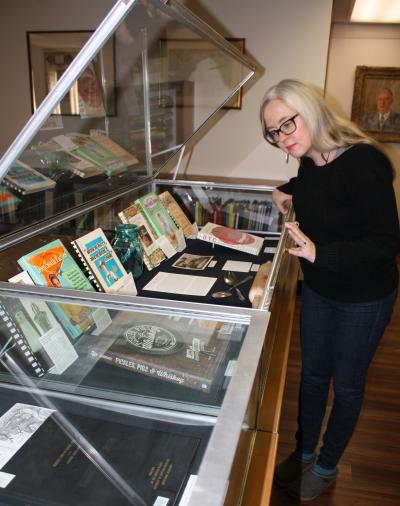 Jennifer Brannock, University Libraries professor and curator of rare books and Mississippiana for USM Special Collections, looks over exhibits produced through the Student Curator Program (USM photo by David Tisdale).
Sharing fascinating subject matter with a broader audience, while gaining valuable research and exhibit production skills, is central to the purpose of the Student Curator Program offered through University Libraries' Special Collections at The University of Southern Mississippi (USM).
The Student Curator Program provides USM undergraduate and graduate students interested in working with cultural heritage entities hands-on instruction and experiences in selecting items for display and installation of those materials, how to write labels and exhibit text, and in publicizing the exhibit using the topics and rare materials found in Special Collections.
Jennifer Brannock, University Libraries professor and curator of rare books and Mississippiana for Special Collections, said the student curator exhibit program also gives students "something they can include in their resumes, making them more marketable to graduate programs and employers."
"Many former USM student curators have gone into professions where the skill set they've gained is extremely helpful, and the opportunity to work with the cool things in Special Collections is also a bonus," Brannock said.
Karlie Herndon, a USM doctoral student specializing in children's literature, has submitted an exhibit proposal featuring the use of the umbrella in children's literature, from Alice's Adventures in Wonderland's posh white rabbit to Mary Poppins flying in on a breeze. Her ideas for the exhibit include presentation of a variety of children's and dolls' umbrellas or instructions for creating paper umbrellas, among other options.
"It's wonderful how such a simple device (umbrellas) has been turned into something magical in children's literature, and I think that's worth celebrating with a display," she said.
Herndon says the Student Curator Program has helped her begin to see trends in the field and how those trends have emerged over time, important for her as she begins working on her dissertation. Examining Special Collections' archives has also allowed her to examine children's literature as a historian might, which she believes will be invaluable as she looks at texts in a historical time period.
"In literature programs, our research typically takes a deep dive into analysis of one or perhaps two texts at a time, and this can create blind spots in our research," Herndon said. "The Student Curator Program allows me the opportunity to take a step back and survey the whole picture, spot trends in my field, and forge new paths through the proverbial forest, rather than carve away at the same old tree."
For more information on the Student Curator Program at USM, contact Brannock at Jennifer.BrannockFREEMississippi, or call 601.266.4347 for questions about a topic or the exhibit development process.