Spring 2019 McCarthy Lecture Series Concludes Feb. 26 with Presentation on Vietnam War Spy
Thu, 02/21/2019 - 16:23pm | By: David Tisdale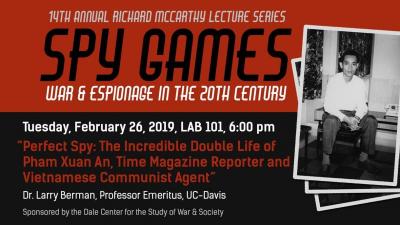 The conclusion of the 14th annual Richard McCarthy Lecture Series at The University of Southern Mississippi (USM) will feature a presentation by author and historian Dr. Larry Berman, based on his book "Perfect Spy: The Incredible Double Life of Pham Xuan An, Time Magazine Reporter and Vietnamese Communist Agent," Tuesday, Feb. 26 at 6 p.m. in the Liberal Arts Building 101. Admission is free.
The theme for this year's McCarthy Lecture Series is "Spy Games: War & Espionage in the Twentieth Century" and is presented by the USM History Program's Dale Center for the Study of War and Society.
During the Vietnam War, An established relationships with everyone from prominent American journalists and CIA officials to South Vietnamese government and military leaders, all the while providing intelligence to the North Vietnamese. In Perfect Spy, Dr. Berman, who An considered his official American biographer, lays out the compelling story of one the most effective and fascinating spies of the last century.
A Professor Emeritus at the University of California, Davis and founding dean of the Georgia State University Honors College, Dr. Berman has written extensively on Vietnam War-related topics. He has been featured on C-Span's Book TV, the History Channel's Secrets of War; The Presidents: To The Best of My Ability; Bill Moyers PBS series, The Public Mind; David McCullough's American Experience series, "Vietnam: A Television History;" and Marvin Kalb's retrospective on Vietnam.
Dr. Berman is co-recipient of the Richard E. Neustadt Award, given annually for the best book published during the year in the field of the American Presidency.
"We're fortunate to have a scholar of Dr. Berman's caliber to close out the McCarthy Lecture Series on spies and espionage," said Dr. Allison Abra, assistant professor of history and coordinator for this spring's lecture series. "He has been studying a variety of topics on the history of the Vietnam War for over 35 years, and his book, Perfect Spy, has been very well-received and even translated into Vietnamese, which is a major accomplishment for a foreign historian."
The Dale Center is housed in the USM History Program. For more information about this event, contact USM History at 601.266.4320, or visit the Dale Center at https://www.usm.edu/war-society.