Trent Lott Center Director Campbell Honored by Mississippi Development Authority
Wed, 02/20/2019 - 02:08pm | By: Van Arnold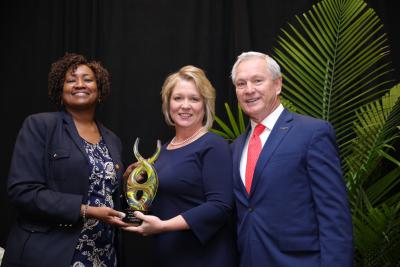 Dr. Shannon Campbell (center) receives her award from Glenn McCullough, Executive Director, Mississippi Development Authority and Vickie Watters Martin, Senior International Trade Manager, Mississippi Development Authority.
Dr. Shannon Campbell, director of the Trent Lott National Center for Economic Development and Entrepreneurship at The University of Southern Mississippi, has been awarded the Marsha N. Hamilton Spirit Award by the Mississippi Development Authority.
Campbell, who has served as the Trent Lott Center director since 2013, was recognized for "extraordinary service in economic development." The award is presented annual by the MDA to the state's most deserving leader in that field of expertise.
"I was speechless and it caught me by surprise," said Campbell upon learning of the honor. "I consider it to be a team award for USM. A leadership award of this nature is affirmation that our team here at USM is producing the kinds of results that are appreciated by our peers around the state, and I am glad to be a part of this team."
According to the MDA, recipients of the award must:
Exhibit professional competency and consistent collegiality with his or her peers
Exhibit the highest degree of integrity at work and in the community
Have gone beyond the norm in the input of time, energy and resources to further the goals of economic development in Mississippi and to bring honor to their profession in general
The award is named for Marsha Nell Hamilton, a graduate of Jackson State University who served at the Mississippi Development Authority from 1983 until her passing in December of 2012. Hamilton's area of specialization was global trade an international diplomacy.
As a manager of the international trade office, she worked on behalf of small businesses to promote and distribute their products and services worldwide. She opened and managed the state's foreign office network, navigating state contracting and foreign currency accounts as she made the most of appropriated state resources.
Hamilton was largely responsible for the establishment of the now-permanent MDA global trade STEP grant, which to date has provided more than $500 million in direct funding to small businesses.