USM Graduates 21 Students from Third Unmanned Systems Course
Fri, 05/17/2019 - 13:02pm | By: James Skrmetta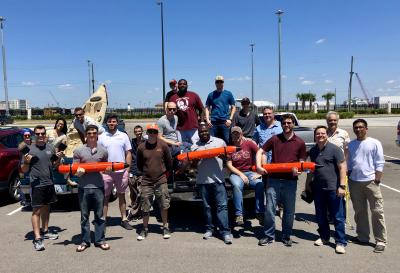 Graduates of USM's Unmanned Maritime Systems Certificate Program for 2019.
The University of Southern Mississippi's (USM) School of Ocean Science and Engineering (SOSE) held a graduation ceremony at their Marine Research Center (MRC) for the third graduating class of their Unmanned Maritime Systems (UMS) Certificate Program.
Before the graduation, instructors Kevin Martin, Vernon Asper and Roy Jarnigan joined the students to announce the winners of their final class project – a race with gliders they built themselves. The race took place the prior day in the MRC's testing pool.
The UMS program's goal is to offer training in the safe and effective use of mission critical UMS. It will also provide leverage between federal agencies, private industry and academic research, all in support of the Gulf of Mexico real-world environment.
"Congratulations on the successful completion of this one of a kind course," said Dr. Chris Winstead, Dean of USM's College of Arts and Science. "These courses continue to provide evidence of USM being a global leader in education and research in the maritime industry and a strong advocate for the local "Blue Economy."
The certification program began in 2017 and is the only one of its kind in the U.S. Students participate in a three-month training cycle, during which they will study nautical science, 3-D positioning, ocean policy, autonomous systems and much more. The UMS program is made up of three tiers including "novice," "journeyman" and "expert" levels.
"This is a historic event," said Captain Ronald J. Piret, U.S. Navy, and Commanding Officer Naval Oceanographic Office. "Today's graduates are among the first 50 in human history to come through this course."
Capt. Piret said the advanced education of unmanned vessels is quickly becoming mandatory for the betterment of the United States.
"Unmanned Systems are the future of national defense," he said. "They allow us to be a more agile, more versatile Navy. One of the main driving forces of our success is to find excellence. Finding excellence begins here with each of you."