USM Gulf Park to Present Women in Mississippi Politics on March 25
Thu, 03/21/2019 - 10:19am | By: Jenny Tate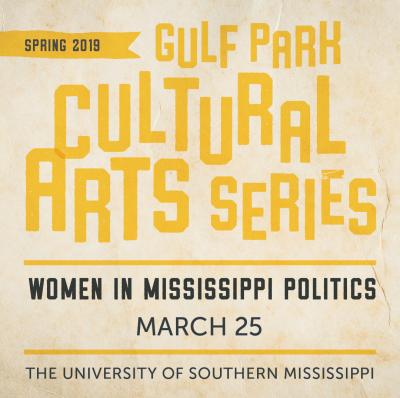 The University of Southern Mississippi (USM) Gulf Park Campus will present "Women in Mississippi Politics" on Monday, March 25 at 5:30 p.m. in the Hardy Hall Ballroom.
Coinciding with Women's History Month, this bi-partisan forum features a panel of retired female politicians from south Mississippi, who will reflect on their careers in local and state politics.
Panelists are Aneice Liddell, former Mayor of Moss Point (2009-2013); Connie Moran, former Mayor of Ocean Springs (2005-2017); Diane Peranich, former Mississippi State Representative for the 121st District (1988-2012); and Brenda Simkins, former councilwoman-at-large for the City of Pascagoula (2013-2017).
Dr. Katie James, assistant professor of sociology and interdisciplinary studies at USM, will serve as the moderator.
This is the third and final event in the spring 2019 Cultural Arts Series, "Representing the Experiences of Women, From the English Renaissance to Right Now." Admission is free, and members of the University community and general public are invited to attend. Light refreshments will be served.
"The 2016 U.S. presidential campaign and election results proved to be a catalyst in so many aspects of national and state politics, including the so-called 'pink wave' of the 2018 midterm elections. This public forum provides a timely opportunity to consider the diverse career experiences of four retired women politicians from south Mississippi in relation to this recent nationwide trend," said Dr. Christopher D. Foley, event organizer and assistant professor of English at USM.
"Our aim is to understand how gender norms impacted these women's experiences in politics, from deciding when and how to run for political office to navigating the complex demands of a domain in which women are under-represented. Hearing their accounts will help us understand more about the best ways to remove the structural barriers that exist in Mississippi and beyond that preclude women from holding political office. We hope the public will join us for this important conversation."
The Gulf Park Cultural Arts Series is made possible by a grant from the Mississippi Humanities Council, through support from the National Endowment for the Humanities.
For more information about the series, contact Dr. Allan Eickelmann, Cultural Arts Series committee chair and associate teaching professor, at allan.eickelmannFREEMississippi.