USM Holds Spring 2019 Commencement Ceremonies
Mon, 05/13/2019 - 07:57am | By: David Tisdale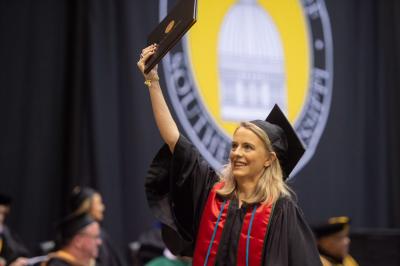 The University of Southern Mississippi held its 2019 Spring Commencement last week on the Hattiesburg and Gulf Park campuses. (Photos by Kelly Dunn)
Last week, University of Southern Mississippi's (USM) spring 2019 graduates moved their commencement cap tassels to the left and then walked right into a future full of possibility and opportunity, where they can use their newly-earned education and experiences from their alma mater to succeed.
Four spring commencement ceremonies were held, including the inaugural Graduate School graduation on USM's Hattiesburg campus Thursday, May 9 at Reed Green Coliseum; two on Friday, May 10 for undergraduates at the Hattiesburg campus, also held at Reed Green Coliseum; and one on Saturday, May 11 at the Mississippi Coast Coliseum for undergraduate and graduate students at USM's Gulf Park Campus and Gulf Coast teaching and research sites.
Alex Handley of Nashville, Tennessee earned a Master's Degree in Music Performance (trombone), and will put his education to work pleasing audiences fortunate enough to hear him perform as a member of the U.S. Army Band. Handley will eventually be stationed at Fort Bliss in El Paso, Texas with the 1st Armored Division after completing basic training in June at Fort Jackson in Columbia, South Carolina.
"It's a great school and the faculty, including Dr. Ben McIlwain, has always been supportive, challenging me to reach my potential," Handley said. "It's been two of the most important years in terms of growing in the field of music, and becoming a better musician."
Dani Woods of Memphis, Tennessee earned a doctorate in mass communication and was hooded by her faculty mentor, Dr. Chris Campbell, at the Graduate School Commencement Ceremony. At USM, Woods taught undergraduate course in media writing and video production while completing her doctorate. She has accepted a position as assistant professor at Southern Utah University, where she says she hopes to "mentor and pass on the knowledge and skills I learned here."
"I'll be forever grateful for my experiences here at USM," Woods said. "The program and my professors prepared me well for a successful career in academia."
Kristen McGuire of Biloxi said USM and Gulf Park professor Dr. Douglas Bristol have inspired her to expand her knowledge base after receiving her degree in history May 11 at the Mississippi Coast Coliseum. McGuire plans to teach English in Russia for two years, learn more the people, culture and history of that country and then return to the U.S. to pursue graduate studies in history.
McGuire, who returned to school at USM after working in retail, said the last two and a half years at the university "completely changed my life, my perspective on the world."
"It (USM) has opened new opportunities, not just for my career but my own personal development," said McGuire. She credits Dr. Bristol for being the "biggest reason I've been successful," after he encouraged her to participate in USM's Undergraduate Symposium, where she won awards two years in a row for presentations of her research.
McGuire is also recipient of John E. John E. Wallace award for the best graduating history major at USM Gulf Park.
"He (Dr. Bristol) is my rock-sold foundation," McGuire said of her mentor. "He really inspired me to go above and beyond in my studies."
Tatum Barham of Purvis, Mississippi was awarded a bachelor of science in nursing at the May 10 morning commencement, when she and fellow College of Nursing and Health Professions graduates received their diplomas.
Barham, who is joining the staff of the post-surgical/cardiology unit at the Blair E. Batson Children's Hospital in Jackson, Mississippi, said feels "well prepared and ready to take on any challenges I face, thanks to the amazing faculty, staff and others I've met along my journey at USM," citing Jill Rushing and Jean Marks in particular for "encouraging me through each step of the nursing program."
"They (USM nursing faculty and staff), and all the wonderful friends I've made at USM are amazing, and have shaped me into the nurse and woman I am today," Barham said.