USM Nearing Completion of Major Renovation to Joseph Greene Hall
Sun, 02/10/2019 - 02:05pm | By: Van Arnold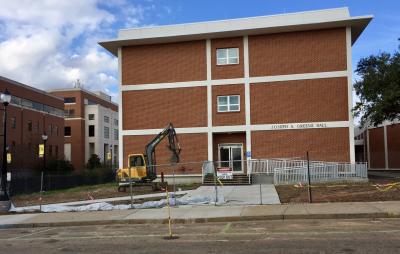 USM's Joseph Greene Hall has been undergoing a major renovation since the fall of 2017.
An extensive renovation of venerable Joseph Greene Hall on The University of Southern Mississippi's Hattiesburg campus is nearing completion as the facility transitions from housing one major academic unit to another.
The estimated $13-million project is scheduled for substantial completion in April. For almost 50 years the building housed USM's business program, but all units associated with that program moved to newly constructed Scianna Hall in 2015.
As part of the University's recent academic reorganization plan, the College of Education and Human Sciences will transition from Owens-McQuagge Hall to Joseph Greene Hall.
Dr. Trenton E. Gould, Interim Dean, College of Education and Human Sciences, notes that currently students, faculty and staff are spread out across multiple buildings on campus. In the coming months, the college will occupy space not only in Joseph Greene Hall, but Fritzsche-Gibbs Hall and Owens-McQuagge Hall.
"This consolidated footprint will create an identity for faculty, staff, and students that comprise the professional programs in our college," said Gould. "The proximity will connect the college in ways we haven't experienced before.
"Specifically, the Joseph Greene Hall renovation includes mission critical improvements in our teaching and research spaces as well as additional space for our Student Support and Advisement operations. We are grateful for the University's investment in our college and excited about getting into our new configuration this summer."
Built in 1968, the structure was originally designated as the Business Administration Building and later named in honor of Dr. Joseph A. Greene, who served as the first dean of the University's business program. Dr. Greene served in that capacity for 36 years before retiring in 1985.
"When I was a student I took most of my classes in Joseph Greene Hall, so it's exciting to see how this facility has been transformed to meet the needs of today's students," said Dr. Chris Crenshaw, Associate Vice President for Facilities Planning and Management. "As a result of this project, I believe students, faculty and staff that utilize this facility will experience a top-notch teaching and learning environment."
The project included significant infrastructure upgrades to mechanical, plumbing and fire protection sectors. Other notable improvements/additions include:
A new roof
New energy-efficient windows
Two fully renovated auditoria
A large student lounge, advisement center, and student success center
Improved classroom and research spaces
An anatomy classroom/lab
New ramps for improved ADA access
State-of-the-art visual and audio equipment and classroom technology
A new bio-mechanics lab
New exercise physiology classroom and lab
New assessment labs
The renovation project began in the fall of 2017. A definitive timetable on the College of Education and Human Sciences' move into the building is still to be determined.