USM Nursing Community Shows Support for American Heart Month
Tue, 02/12/2019 - 02:35pm | By: Van Arnold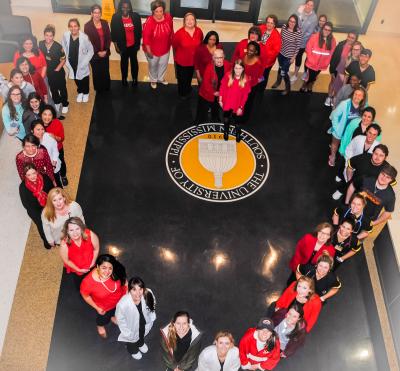 Nursing student, faculty and staff show their support for Amnerican Heart Month and Go Red for Women at Asbury Hall on the Hattiesburg campus. (Photo by Anthony Felipe)
Students, faculty and staff within The University of Southern Mississippi's College of Nursing and Health Professions donned red on Tuesday, Feb. 12 in support of American Heart Month and the American Heart Association's Go Red for Women initiative.
Go Red for Women is a comprehensive platform designed to increase women's heart health awareness and serve as a catalyst for change to improve the lives of women globally.
According to the American Heart Association, cardiovascular disease is the No. 1 killer of women, causing one-in-three deaths each year. Statistics show that every 38 seconds someone dies from a cardiovascular event. The Mississippi State Department of Health indicates that Mississippi's Cardiovascular mortality rate remains the highest in the nation. Cardiovascular disease accounts for one-third of the deaths in Mississippi.
"Some people aren't aware that when we are talking about cardiovascular disease we include hypertension, coronary heart disease, heart failure and stroke," said Dr. Elizabeth Tinnon, Associate Professor and Interim Director, School of Professional Nursing Practice at USM. "Young people also don't realize that we are seeing an increase in cardiovascular events in their age group. Factors such as the rise in obesity rates, sedentary lifestyle and illicit drug use in young people contribute to this current phenomenon."
Tinnon notes that one of the more important things for anyone to do is to know his/her "numbers."
"Before we begin a journey, we need to know our starting place. What we mean by numbers is knowing your blood pressure, blood sugar level, body mass index (BMI), and cholesterol levels. If any of these numbers are elevated, you have a risk for cardiovascular disease; the more elevated numbers the higher the risk for a cardiovascular event," said Tinnon.
Ideal numbers include: blood pressure -- 120/80 mm/Hg; fasting blood sugar -- 100 or lower and BMI -- 25Kg/m2 or lower. Cholesterol levels consist of LDL (low density lipoprotein, bad cholesterol) which should be less than 100, HDL (high density lipoprotein, good cholesterol) which should be higher than 40 mg/dL in men and 50mg/dL in women; total cholesterol should be less than 200 mg/dL as well as triglycerides which should be lower than 150 mg/dL.
The most common sign/symptom of a heart attack is a pain in the chest area which some people have described as an "elephant sitting on my chest." This pain can radiate down one's arm or into the jaw area. Shortness of breath may also occur. Some people will break out in a sweat.
One primary difference between women and men is that women may experience atypical symptoms such as sudden shortness of breath, dizziness, fatigue neck pain, nausea and vomiting. If a person experiences any of these symptoms, they need to call 911.
While this information can be daunting there is good news, including steps to take to decrease or prevent the likelihood of experiencing a cardiovascular event. A lot of it is up to the individual and the changes a person is willing to make.
These changes include:
If you smoke, stop smoking
Increase activity (ask your doctor first): The American Heart Association recommends a total of 150 minutes of moderate-intensity aerobic activity such as walking each week. This could break down to 30 minutes 5 times a week. For activity that is vigorous such as running to spend 75 minutes a week
Eat healthy: Include mostly fresh vegetable and fruits with lean meats. Avoid concentrated sweets.
Lose weight if you're considered overweight or obese
Decrease sodium intake to 2,000mg per day
For more information about the College of Nursing and Health Professions at USM, call 601.266.5445 or visit: https://www.usm.edu/nursing-health-professions