Watson Chosen to Present Research at Psychology Conference
Tue, 01/22/2019 - 02:23pm | By: David Tisdale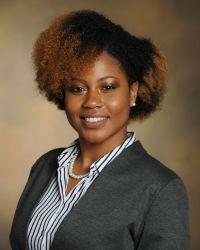 Tiara Watson, a University of Southern Mississippi (USM) senior psychology major and student in its prestigious Honors College, has been chosen to present her research at the Southeastern Psychological Association Conference (SEPA) March 20-23 in Jacksonville, Florida.
Watson's independent research project is titled "Perfectionism and Alcohol Use: Moderating Effects of Protective Behavioral Strategies." Her project was accepted though a competitive selection process for the general SEPA conference and Committee on Equality of Professional Opportunity (CEPO)-Psi Chi Undergraduate poster session. Psi Chi is an international honor society in psychology.
Watson's research involves examining the relationships between alcohol use outcomes in collegiate students who self-identify as having adaptive and maladaptive perfectionism personality characteristics, and their employment of strategies used to assuage the negative effects of alcohol consumption.
A native of Grenada, Mississippi, Watson is also a McNair Scholar at USM and president of the university's chapter of Psi Chi and vice-president of Iota Kappa chapter of Alpha Kappa Alpha Sorority, Inc.
"Research plays a vital role in the advancement of the field of psychology to help improve people's lives, and I'm grateful for the opportunity to begin making a contribution to the field in my undergraduate career," Watson said.
Watson believes the conference will afford her the opportunity to further develop her presentation skills and expose her to a plethora of the latest research being conducted in psychology, while also networking with professionals, graduates, and fellow undergraduates in the field. Her travel to Jacksonville will be supported by the Honors College and Eagle Wings Travel Grant funding.
"Tiara is among our most accomplished Honors Scholars," said Dr. Ellen Weinauer, dean of the Honors College. "Her professional drive and skills as a researcher are impressive, and we know she will represent Southern Miss and the Honors College well at the conference."
Watson pointed to the guidance of psychology professor Dr. Michael Madson and her graduate mentor, Hallie Jordan, for helping her gain insight into the research process while developing her project. She plans to pursue a Ph.D. in psychology after graduating from USM, focusing on research that actively aids in the alleviation of mental health disparities in marginalized communities.
"We're very proud of Tiara. It's a great accomplishment for her to be selected for this conference, as it involves a competitive process with over 200 submissions," said Dr. Madson. "Thus, being chosen to present demonstrated the quality and value of her work."
For information about the USM School of Psychology, visit https://www.usm.edu/psychology; for information about the USM Honors College, visit https://www.usm.edu/honors. Learn about SEPA at http://www.sepaonline.com/aboutsepa.html.