Kaplan Admissions Test
USM Kaplan Admissions Test Registration Form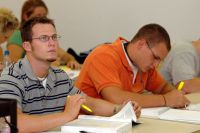 Thank you for your interest in the Bachelor of Science in Nursing (BSN) Program at the University of Southern Mississippi. As one of the requirements for this program, beginning with Fall 2014 admission, the College of Nursing requires the Kaplan Admission Test. The Admissions Test is a tool to determine if students have the academic skills necessary to perform effectively in a college of nursing. The Kaplan Admission Test is a 91 question, multiple-choice test that evaluates the basic reading, math, writing, and science skills of students seeking entry into a nursing program leading to RN licensure.
Cost and Retaking the Test
The cost for applicants to take the test is $50 at the time of online registration per test administration. This fee is non-refundable. Applicants may take the test one time per admission period. Kaplan scores are non-transferrable from the College of Nursing.
Kaplan suggests the following preparatory text - (available at local bookstores or through Amazon.com) Kaplan Nursing School Entrance Exams: Your Complete Guide to Getting Into Nursing School (Kaplan Nursing School Entrance Exam by Kaplan
For more information about the admissions test:

Call 601.266.6024 or 601.266.6846