Hydrographic Science Research Center
The Hydrographic Science Research Center (HSRC) at USM was created to develop and broaden the applications of hydrography, ocean mapping and navigation technology.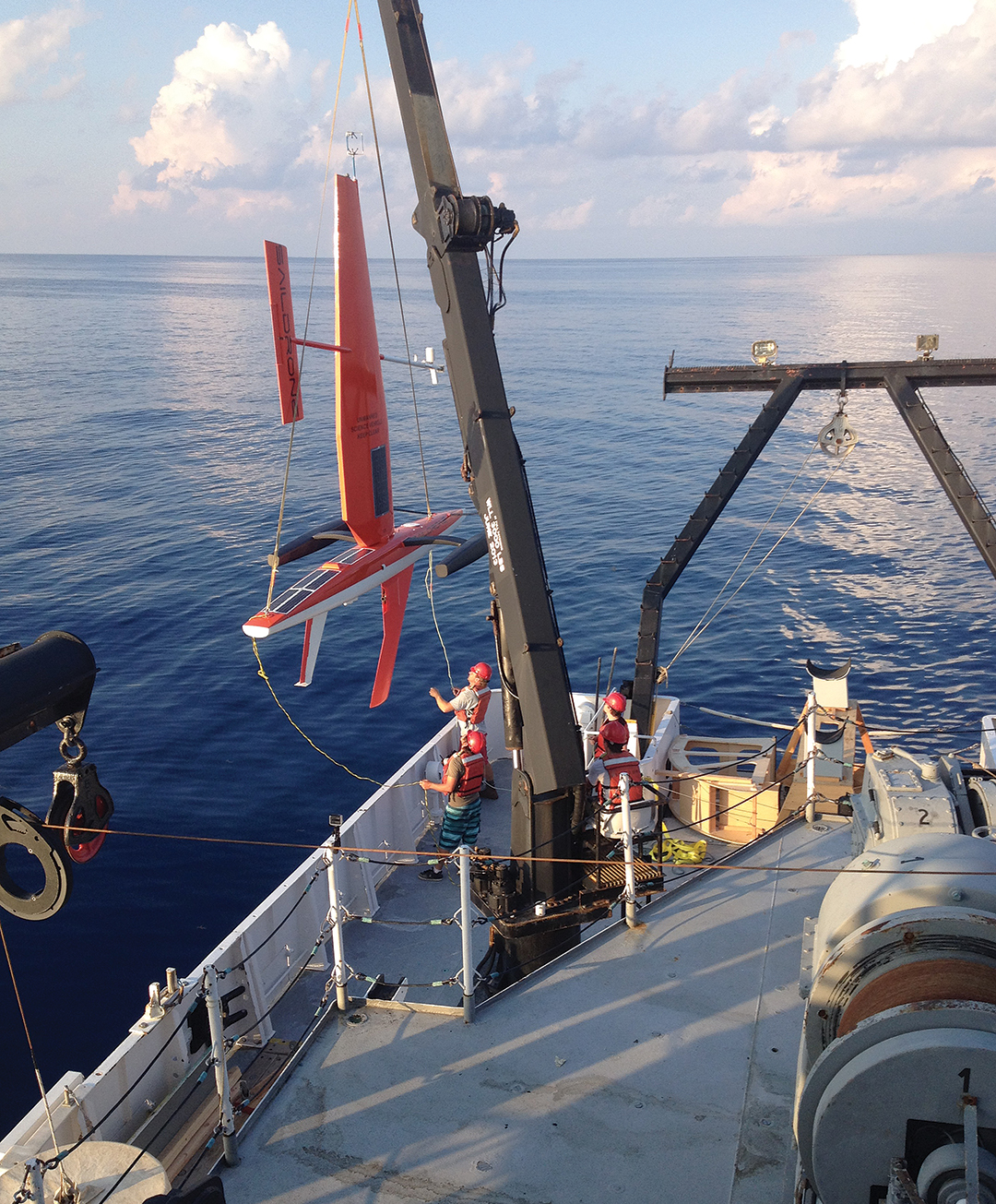 The HSRC provides research support to address the needs of governmental and commercial clients for information related to coastal and ocean navigation, the ocean floor and ocean processes. Development of the center emerged from a summit of 30 scientists from the United States and Canada, convened in October 2000 at The University of Southern Mississippi's Gulf Park campus to develop a plan for a national center of excellence in hydrography.
The center is located within the USM School of Ocean Science and Engineering with offices in Bldg. 1020 at the Stennis Space Center.
HSRC Overview
Hydrography has traditionally been confined to providing navigation charts for the route planning and operation of surface ships. With the development of more sophisticated spectral sensors and computers, and the recent requirements for rapid environmental assessment, this traditional role has changed to the acquisition, analysis, visualization and management of spatial and temporal information of all marine terrain features, processes and properties. A major driving force in this new role is the recent technological developments in positioning, extraction of seabed information, remote sensing and the prevalence of digital products. In addition, the modern user of hydrographic data requires complete and up-to-date marine environmental information that is easily accessible and presented in a useable form.
Hydrographic technology and methods are rapidly evolving, and HSRC personnel seek to understand emerging trends and to modify and advance these trends to provide solutions for its primary clients. In doing so, the center will (a) analyze and assess promising developments in hydrography and related sciences, (b) select those developments which have a high probability of enhancing client programs and objectives, (c) undertake research and implement new developments to blend emerging technologies with client's evolving needs, and (d) devise new approaches and techniques as required by these developments.
Featured Research
The HSRC, with government partner NOAA Office of Coast Survey, is developing techniques and procedures for the use of unmanned surface vessels in hydrographic operations. A NOAA grant provided HSRC with a 5 meter unmanned surface vessel that will be a test and development platform for new sensors and instruments while providing insight into autonomous operations.
Tailored Hydrographic Instruction
Drawing on The University's established leadership as an International Hydrographic Organization (IHO)/International Federation of Surveyors (FIG)/International Cartographic Association (ICA) Category A Certified hydrographic science education program, the HSRC can provide classroom instruction and hands-on training on virtually any aspect of hydrographic data collection, data processing, data management, and product generation. With a holistic view of hydrography from equipment installation through hydrographic production, training can be tailored to suit the client's needs. Specific areas of expertise include:
- Equipment installation
- Calibration
- Software configuration
- Vessel configuration survey
- Single beam echo sounders
- Side scan sonars
- Multibeam echo sounders
- Phase differencing swath bathymetry sonars
- QINSy
- SonarWiz
- Fledermaus
- HyPack
- Caris
- Static processing techniques (Network, single baseline and Precise Point Positioning solutions
- Real Time Kinematic GPS
- Real Time Gipsy GPS
- Post Processing Kinematic GPS
- Post Processing Kinematic Precise Point Positioning