Track Your Pathway/Internship Experience For Graduation Cord Recognition
Congratulations on completing a pathway experience! Whether your pathway was in the form of an internship, collaborative research, clinical assignment, or other fieldwork, you have gained new insights and skills that will serve you well moving forward in your post-graduation goals. Research shows that to maximize your pathway, it is important to stop, reflect, and analyze the experience. The University has developed the Pathway Reflection and Evaluation to help guide you through these steps. The time and thought you put into your reflection will contribute to formulating "your story" that you will convey in your resume, cover letters, and interviews.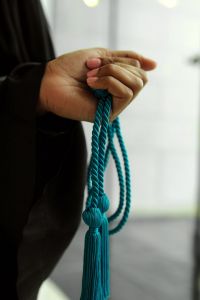 In addition, to highlight your pathway participation and completion of the reflection and analysis of your experience, students submitting this reflection and evaluation will receive a Pathway Graduation Cord at no charge to wear at commencement.
Completing the reflection will take approximately 25 minutes. It is important to note that if you begin the reflection and need to exit before submitting, you must return to the same internet browser on the same computer/device to continue with your responses. You may want to print a copy of the form, prepare your answers, and enter your responses all at one time.
The cord recognition is for UNDERGRADUATE students only.