Field Trips
"What is a Polymer" Program
The "What is a Polymer" program provides opportunities for 6th through 12th grade students and teachers to visit Southern Miss's School of Polymers for hands-on activities, demonstrations, and tours in polymer science. Students also are engaged with introduction level lectures from the School of Polymers and High Performance Materials Faculty. Annually, this outreach program impacts over 500 6th -12th grade students.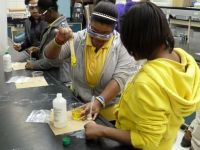 Students from Hattiesburg Middle School participate in hand-on demos.
For more information or to reserve a date for a field trip, please contact Kim Wingo. Contact information is given below.
Kim L. Wingo
Associate Director of Recruiting, Outreach & Student Programs
School of Polymers and High Performance Materials
University of Southern Mississippi
Phone: (601)266-6849
Email: kimberly.wingo@usm.edu