Rodney D. Bennett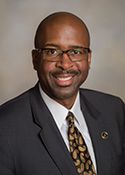 Rodney D. Bennett serves as the chief executive officer and principle educational officer of The University of Southern Mississippi, a comprehensive doctoral and research-driven university with campuses in south Mississippi and along the Mississippi Gulf Coast.
As proven leaders in innovation, the University's faculty and students conduct transformative research that translates into real-world solutions. The University is also recognized as one of a select number of institutions in the nation accredited in all four areas of the arts: art, dance, music, and theatre. Under President Bennett's leadership, the University has invested in new faculty positions, expanded coastal operations, and worked to increase access to quality education and research programs to serve the needs of the state of Mississippi and beyond.
President Bennett's vision is for The University of Southern Mississippi to become the model for public higher education across the country. Moving forward, his key institutional priorities include improving quality across the board while ensuring student success; expanding enrollment strategies; enhancing academic instruction; fostering greater focus on research; bolstering economic and community partnerships; and maximizing human potential.
President Bennett holds a Doctor of Education Degree in Educational Administration from Tennessee State University in Nashville and a Specialist in Education Degree, a Master of Education Degree in Educational Administration, and a Bachelor of Science Degree in Mass Communication from Middle Tennessee State University in Murfreesboro.
The Bennett Family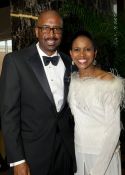 Dr. Bennett's wife, Temple (at left), is a member of The Links, Inc., an international women's social and public service organization founded on the principles of friendship and service, and Delta Sigma Theta Sorority, Inc.
She earned her bachelor of business administration degree from Middle Tennessee State University in 1991 and her master of business education degree from the same institution in 1994.
The couple has two daughters, Colby and Logan.