Rodney D. Bennett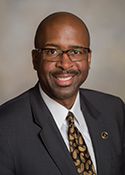 Rodney D. Bennett took office as the 10th President of The University of Southern Mississippi on April 1, 2013. Dr. Bennett came to Southern Miss from the University of Georgia, where he served as Vice President for Student Affairs. [News release/video announcing Dr. Bennett's hiring.]
Appointed to the presidency by the Board of Trustees of the Institutions of Higher Learning on Feb. 7, 2013, Dr. Bennett is charged with serving as both the chief executive officer and principal educational officer of The University of Southern Mississippi. In general terms, the President is responsible to the Board of Trustees for every facet of institutional operations. Dr. Bennett's selection as President made history, as he became the first African-American president of a predominantly white higher education institution in the state of Mississippi.
In the week following the Board of Trustees' announcement, the University's Hattiesburg campus was struck by a powerful tornado that ripped through not only Southern Miss but also the surrounding community. No lives were lost, but several buildings on campus were damaged or destroyed. Dr. Bennett is currently leading the institution's recovery.
As Vice President for Student Affairs at the University of Georgia, Dr. Bennett was actively involved in all facets of student life, from improving facilities to creating service learning opportunities and celebrating the spirit of diversity on campus. He helped raise funds to enhance student life on campus and improved communications with faculty, staff, students and parents on the Athens campus and three UGA extended campuses.
Dr. Bennett served as Chair of the UGA Athletic Association NCAA Recertification process, including the institutional self-study. In addition, he was a member of the on-site committee for the Southern Association of Colleges and Schools, reviewing compliance areas related to student life and student affairs.
Dr. Bennett holds a Doctor of Education Degree in Educational Administration from Tennessee State University in Nashville, a Specialist in Education Degree and a Master of Education Degree in Educational Administration from Middle Tennessee State University in Murfreesboro, and a Bachelor of Science Degree in Mass Communication from Middle Tennessee State.
The Bennett family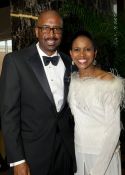 Dr. Bennett's wife, Temple (at left), is a member of The Links, Inc., an international women's social and public service organization founded on the principles of friendship and service, and Delta Sigma Theta Sorority, Inc.
She earned her bachelor of business administration degree from Middle Tennessee State University in 1991 and her master of business education degree from the same institution in 1994.
The couple has two teenage daughters, Colby and Logan.