Graduation Preparation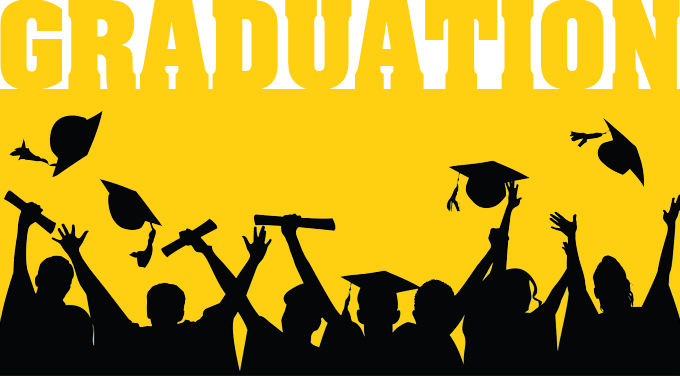 Announcements
Students must submit their Spring 2019 degree application to the Registrar's Office by close of business on March 1, 2019 in order for their name to be included in the Spring 2019 commencement program. Students who submit their degree application after this deadline will not have their name appear in the commencement program.
The Spring 2019 degree clearance process will conclude on Friday, June 14, 2019. Diplomas do not display the major in which a student completed their degree in. Diplomas only display a student's degree type (i.e. Bachelor of Science, Master of Arts, etc.) and will be mailed to the degree address listed on your Graduation Application on Monday, July 1, 2019. Diplomas for all spring graduates will be shipped no later than this date.


Spring 2019 Commencement at Reed Green Coliseum
Ceremony Date and Time

Ceremony Participants

Thursday, May 9, 2019
6:00 p.m.

Graduate School


(Doctoral, Specialists, Master's degree candidates)

Friday, May 10, 2019 morning ceremony 9:00 a.m.

College of Arts and Sciences
College of Nursing and Health Professions

Undergraduate degree candidates

Friday, May 10, 2019 afternoon ceremony 2:00 p.m.

College of Business and Economic Development
College of Education and Human Sciences


Undergraduate degree candidates

Saturday, May 11, 2019
10:00 a.m.

Gulf Park

All degree candidates from all Colleges
Graduation applications can be filled out through your SOAR Student Center. Visit How to Apply for Graduation for step-by-step instructions.
This form is to reserve the seat for the candidates PARTICIPATING in the commencement ceremony. Guests do not reserve seats for attending.
Students will need to complete the Change of Graduation Information form in order to make changes in any of the following areas:
Commencement is a dignified occasion honoring important educational accomplishments. Decorum and courtesy are important to you and your family, and to your fellow degree candidates and their families. Students that elect to act offensively, disrespectfully, or in any way that disrupts or delays the ceremony will be reported immediately to the Dean of Students for a review of the students actions. During this review a hold will be placed on the students record preventing the mailing of the diploma or releasing the students transcript. After the review, the hold may be lifted pending completion of any sanctions.
Once degree candidates have entered the coliseum and have been seated they are expected to remain seated until the conclusion of the ceremony marked by the recession of the faculty.
• Adherence to the University's alcohol policy is expected.
• Improper attire, signs, and insignia will be removed by the marshals.
• Cell phones and other electronic equipment should be turned off.
• Most importantly, when candidates cross the stage to receive their diplomas, they are to do so by walking at a deliberate pace and without any undue actions of celebration.
Visit our list of most frequently asked questions.
Past Degrees Conferred