Center Overview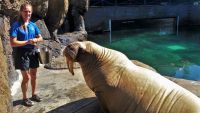 The USM Drapeau Center for Undergraduate Research was established in October 2011. The overall mission of the center is to enhance the undergraduate experience by promoting and supporting student-faculty collaborations in research, creative projects and scholarship. The benefits of active participation in faculty-mentored research are myriad both to the student experience and the university community at large.
Faculty interested in mentoring and collaborating with students are encouraged to become Faculty Affiliates.
Students interested in working on independent research, creative or scholarly projects are encouraged to explore the Faculty Affiliates pages for scholarly opportunities. They also may apply for funding to support their work through the Eagle Scholars Program for Undergraduate Research (SPUR), and present their findings at the annual Undergraduate Research Symposium.
Please join VP for Research Dr. Gordon Cannon and the DCUR in congratulating the Spring 2018 Eagle Scholars! You may download a list of their names and project titles at Eagle Scholars.
Funding Opportunities
Please visit Grant Support for Undergraduate Research and Creative Activity for information on the Drapeau Summer Research Grant Program, Eagle SPUR Program, and NCUR Travel Support.