Don't Cancel That Class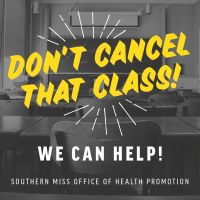 Don't Cancel That Class is a program for all faculty on the USM campus in Hattiesburg offered through the Office of Health Promotion at Student Health Services. If you need to cancel a class, let us know, and we will come to your class on the day of your absence and provide an hour-long seminar for your students. Topics can be tailored to your specific class and include wellness, stress management, sexual health, mental health, and many more! Please provide at least one-week notification.
Contact Lisa Wright at 601.266.5340 or lisa.a.wright@usm.edu for more information.