Tobacco Cessation
Why Quit?
There are many health risks associated with smoking, tobacco use of any kind, and second-hand smoke.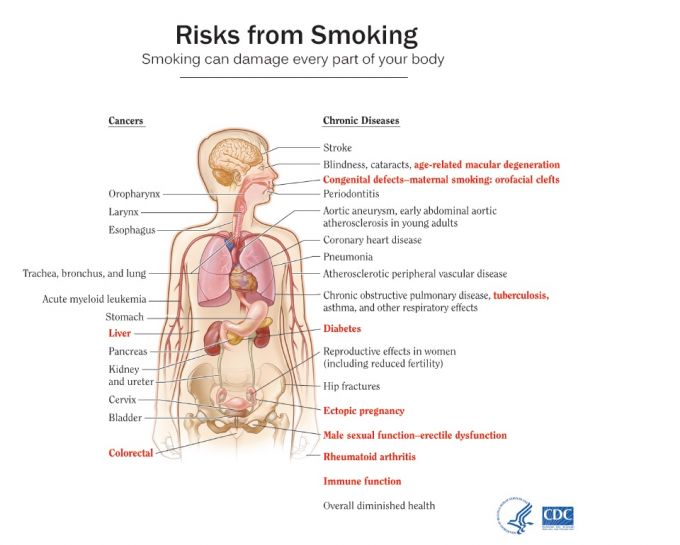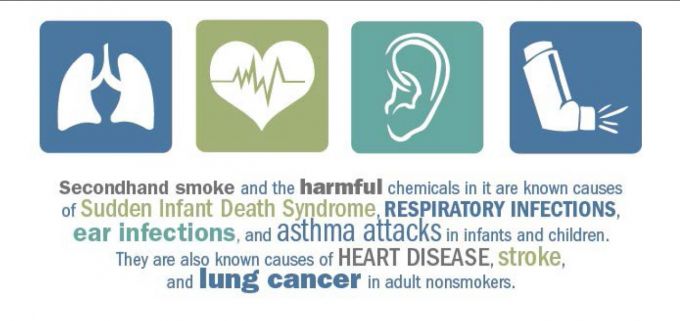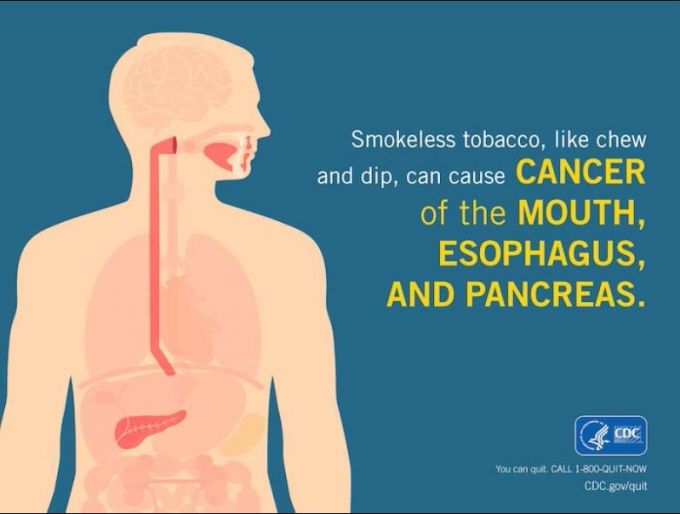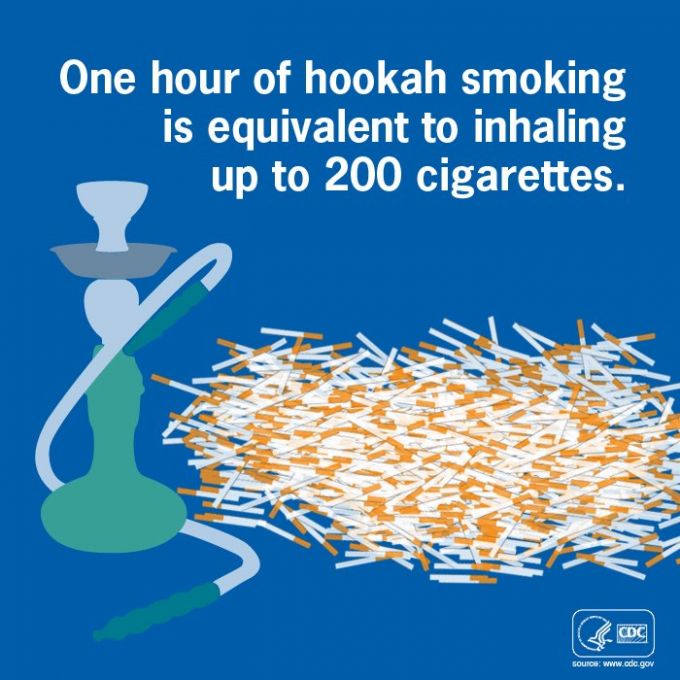 Benefits of Quitting
Within 20 minutes of smoking the last cigarette, the body begins a series of changes that continue for years?!
20 minutes: Heart rate and blood pressure drop.
12 hours: Carbon monoxide level in your blood drops to normal.
2 weeks to 3 months: Circulation improves and your lung function increases. Heart attack risk begins to drop.
1 to 9 months: Coughing and shortness of breath decreases. lung function improves as cilia regrow in the lungs and can better handle mucus, clean the lungs, and reduce the risk of infection.
1 year: Risk of coronary heart disease is half that of a smoker.
2 to 5 years: Risk of cancers of the mouth, throat, esophagus, and bladder is cut in half. Stroke risk can fall to that of a non-smoker after 5-15 years.
10 years: Risk of dying from lung cancer is reduced to half of that of a current smoker. Risk of cancer of the larynx (voice box), pancreas, and kidney decreases.
15 years: Risk of coronary heart disease is that of a non-smoker.
Did You Know?
Within 20 minutes of smoking your last cigarette, your body begins a series of changes that continue for years!
Quitting by the age of 40 will reduce your risk of dying from smoking-related disease by about 90%.
You will SAVE money!
Food tastes better and your sense of smell returns to normal.
Your breath, hair, and clothes smell better.
Your teeth and fingernails stop yellowing.
You stop the damaging effects of tobacco on your body as seen in premature wrinkling of your skin, gum disease, and tooth loss.
Smokeless tobacco, hookah, e-cigarettes, and vaping are NOT safe alternatives to smoking. These too can contain nicotine, making it highly addictive. Each of these also have health risks.
Facts on Vaping
Cost of Tobacco
Look at the Math:
The average cost of ONE pack of cigarettes = $5.06 to $10.56
Average cost of dip/snuff per can = $4
Cigarettes at minimum $5.06 per pack = $35.42 weekly, $1,841.84 yearly
Dip/snuff at $4 per can = $28 weekly, $1,456 yearly
The average cost for Nicotine Replacement Therapy (NRT)
Nicotine Gum = $3.91 daily, $27.37 weekly, $711.62 for 6 months
Nicotine Patches = $5.81 daily, $40.67 weekly, $1,057.42 for 6 months
Most insurance companies will cover certain cessation efforts! Check with your insurance company to see how they cover tobacco cessation office visits, medications, and counseling. There are also programs that offer free NRT. Having the extra support and accountability those programs offer can be a beneficial addition to your cessation journey.
If you can afford to use tobacco, you can afford to quit!!
True Cost of Smoking Infographic from the American Cancer Society
Commit to Quit: Cessation

Making the decision to stop using tobacco or to quit smoking is a big deal and it isn't always easy. For information on where to go for help and resources to help keep you on track, check out the links and tip sheets below.
Decide to quit!

Build a quit plan.

Pick a quit date!

Let friends and family know you are planning to quit.

Have at least one resource for support.
Dispelling Myths about Nicotine Replacement Therapy
Resources for Support