Apparel Construction and Design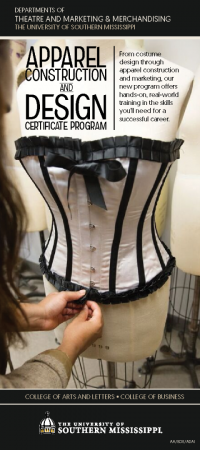 The Certificate Program in Apparel Construction and Design is a joint offering from the Department of Theatre and the Department of Marketing and Merchandising, and gives students the opportunity to study apparel creation through the initial design phase all the way through to marketing. Along the way, students will learn about the history of apparel through the ages and how society affects consumer behavior. The certificate program offers a rich, complex 360º view of the ways in which apparel makes its way from one person's great idea to the closets of millions of people.
What Is a Certificate?
Certificate programs offer a series of classes that work well together to give students with a particular interest a firm foundation in a particular area. Theatre students are encouraged to take classes in Marketing and Merchandising to learn about the business and consumer angle of costume design, and Marketing and Merchandising students are often sent to the Theatre Department to learn how apparel is designed and constructed. The Apparel Construction and Design Certificate Program brings these courses together to offer students a guided exploration of apparel design from both angles.
A certificate is a great thing for job-seekers to have on their resume, as it lets potential employers know about an area of expertise an applicant has within a more general degree, and gives them a sense of the skills the applicant will bring with them to a the job. The ACDC certificate is especially useful for students who want to develop or enhance their skills related to design, product development and apparel construction.
A certificate doesn't replace a major or a minor, so you can keep your current major and still enroll in the Apparel Construction and Design Program.
If you are a current student and want to enroll in the certificate program, you should fill out a College of Business Change of Major form either online or in the Academic Services office in Scianna Hall 2035. On the form, simply request to add the certificate program to your current major.
Certificates programs are also open to non-degree-seeking adults and professionals who want to expand their knowledge of their field or transition to a new career. For information on how to apply to the Apparel Construction and Design Certificate Program if you are not currently a Southern Miss student, please contact Southern Miss Admissions.
Requirements
The Apparel Construction and Design Certificate requires 12-13 hours of coursework: 2 required 3-hour classes and a 1-hour lab, and 2 electives. (Theatre and Marketing and Merchandising students are required by their departments to choose certain electives; for details visit the Department of Marketing and Merchandising.)
Courses
REQUIRED COURSES

Note: Theatre majors are required to take MER 330 and three electives. Merchandising majors are required to take THE 201 and 201L and three electives. Students enrolled in the ACDC program who are neither Theatre nor Merchandising majors are required to take THE 201 and 201L, MER 330, and two electives.
THE 201 Introduction to Costume An introduction to theatrical costume theory with its practical application
THE 201L Costume Laboratory 1 hr. laboratory for THE 201. (Must be taken concurrently.)
MER 330 Textile Industrial Complex

Introduction to the characteristics, composition, and end-products of the textile supply chain including fiber, yarn and fabric producers and manufacturing, retailers and consumers.
ELECTIVES

MER 332 Societal Influences on Consumer Behavior Impact of Cultural and societal diversity on retail product meaning, consumer choices, and consumer behavior
MER 335 History of Apparel

Diffusion of innovations and product-life cycles from a global perspective, focusing on culture, society, economics, politics and technology.

MER 437 Apparel Product Development Understanding processes related to forecasting, product planning, sourcing, technology, pricing, production methods, and branding strategies for retail consumer goods. Prerequisites: MER 330 and MER 436

THE 401 Costume Design Prerequisite: THE 201
THE 441 Costume Technology Studio

Studio class focused on draping and pattern making of costumes, millenary and other costume related technologies such as mask making, fabric dying and painting

THE 460 - Advanced Costume Design Projects in designing costumes for plays, opera and dance; emphasis placed on costume designs as an element in a total production concept.