Lessac Kinesensics Training
Lessac Kinesensic Training is unique in its holistic, comprehensive and creative approach to all aspects of developing the body and the voice, for speech and singing and as creative instruments of communication (www.lessacinstitute.org).
In voice and speech classes at Southern Miss, students gain ways to further incorporate effective and deep breathing, body alignment and flexibility, vocal and physical endurance, vocal resonance and power, articulation and intelligibility; classes also cultivate the unique quality of the individual.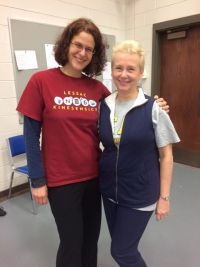 For the MFA Performance program, Department of Theatre professor Robin Aronson has developed a six semester Graduate Voice (THE 670L) curriculum offering semester long courses in the areas of voiceover acting, dialects, musical theatre, and oral interpretation.
In addition, based on her experience teaching the Lessac Kinesensic voice and movement curriculum in Europe at the University of Rijeka in Croatia as well as teaching at the Lessac Institute Summer Intensive held on the campus of DePauw University, Aronson has now designed and implemented a plan of study for graduate students to learn the Lessac voice and body work for one year as the foundation for their voice and speech work in the classroom as well as in production.
Unique to this program, at the end of the year long study, students are given the opportunity to reach Lessac Practitioner status by passing an exam administered by a Lessac Master Teacher. Achieving Practitioner status is a very prestigious level of achievement for voice and speech specialists. This is certainly an exciting and significant accomplishment for Southern Miss. This is the first program to engage in this type of program globally, therefore, putting both the University and the Department of Theatre on the map as a leader in the voice and speech discipline.
---
Robin Aronson is a Lessac Certified Trainer and Professor of Voice and Acting at Southern Miss. As one of only 54 Lessac Certified Trainers in the world, Robin was fortunate enough to assist a one week workshop with Arthur Lessac himself at the University of Rijeka in Croatia. Aronson then returned to Croatia where she taught the Lessac curriculum for their new Post Masters' Program in Acting, Media and Culture Studies under the direction of the international film actor, Rade Šerbedžija. Robin has most recently taught the Lessac Kinesensic Training at Central School of Speech and Drama in London, England; Carnegie Mellon University's School of Theatre; The Gaiety School for Acting, The National Theatre School of Ireland in Dublin; The National Institute of Dramatic Art in Sydney, Australia; and with the Theatre Actors Guild in Manila, Philippines. Robin is currently President of the Lessac Training and Research Institute.