War & Society Roundtable

The War & Society Roundtable, a joint community and university monthly reading group, has been in existence since 2006. Sponsored jointly by Southern Miss's Dale Center for the Study of War and Society and the Library of Hattiesburg, Petal, and Forrest County, the Roundtable focuses on a different war and society book each month of the academic year. A friendly but spirited discussion about the book is moderated by a History faculty member from Southern Miss. The Roundtable is a great way for community members, faculty, and students to interact while exploring topics of mutual interest. Copies of each month's book—generously provided by the Friends of the Hattiesburg Library—are available for loan at the Hattiesburg Public Library well in advance of each meeting. The Roundtable is free to the public and is generally held at 6pm on the second Tuesday of each month during the academic year. See below for latest Roundtable schedule:
Spring 2019
Two If By Sea

All meetings will begin at 6 p.m. and will be held at the Hattiesburg Library, located at 329 Hardy Street. Several copies of each book will be available for loan at the library before the discussion. For more information, contact Sean Farrell at the Library at 601.584.3166 or Ken Swope at The University of Southern Mississippi at 601.266.4333 or Kenneth.Swope@usm.edu. We hope to see you at our next meeting!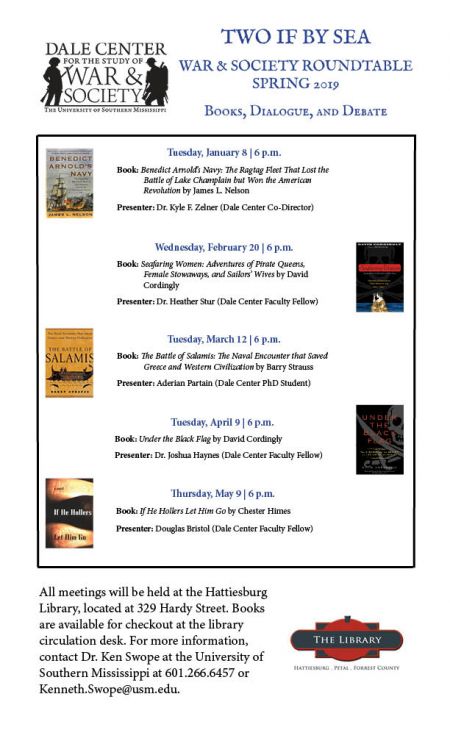 Past Roundtables
Spring 2017: The Empires Strike Back II