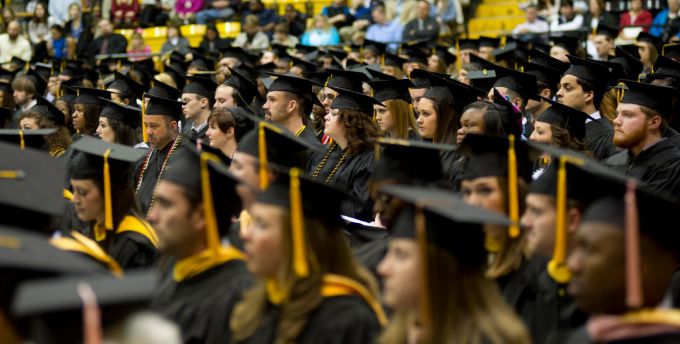 General Commencement Information
The University celebrates the commencement ceremonies twice a year in Hattiesburg (December for summer and fall candidates; May for spring candidates) and an additional ceremony in May for USM Gulf Coast students. All Southern Miss graduation ceremonies are open to the public, and doors will be open approximately one hour before the ceremonies are scheduled to begin.
Families and guests are urged to arrive in time to be seated at least 15 minutes in advance for the start of the processional.

In keeping with the spirit of academic traditions, both faculty and students will process into their seating on the floor of the coliseum and later recess at the conclusion. The university will continue the practice of calling individual candidates' names as they cross the stage. Doctoral students will also be hooded individually on stage as their names are called.
Family and friends will be able to take photos from their seats. A commencement photographer from Candid Campus Photography will be available to take photos of the candidates after they cross the stage and receive their diploma covers. The commencement photographer can be contacted at 800.233.3686.
Students may choose to have their photos made in advance of the ceremony through Southern Miss Photo Services. Call 601.266.4149 to set up an appointment in Hattiesburg.
Undergraduate, master's and specialist's candidates who have filed for degree must reserve a seat for Commencement. RSVP online. Doctoral students must contact the Graduate Reader.
Guests and students with disabilities who need assistance may contact the Office of Disability Accommodations (Hattiesburg) at 601.266.5024.
After the submission of final grades on Monday, August 4, the degree clearance review is a 4-6 week process. The Summer 2014 degree clearance process will conclude on Friday, September 12, 2014. Diplomas will be mailed to the student's "Degree Address" after this date.
Please note: The Registrar's Office will communicate Commencement information through the student's eagles.usm.edu email account. Students wishing to participate in the Commencement ceremony should check their eagles.usm.edu email account for pertinent Commencement/Graduation information.
Fire codes allow a maximum of 700 chairs on the Bernard Reed Green Coliseum floor. Commencement seating is reserved on a first come, first serve basis for each ceremony. Once the maximum capacity of 700 has been reached for a ceremony, the Registrar's Office will discontinue accepting seat reservations.