Come find out about Athletic Training
On and off the field, athletic trainers are dedicated to the well-being of athletes in their care. Athletic Trainers (ATs) are health care professionals who collaborate with physicians to provide preventative services, emergency care, clinical diagnosis, therapeutic intervention, and rehabilitation of injuries and medical conditions.
Athletic Trainers work with individuals of all ages and fitness abilities. They are often first on the scene when an injury occurs to offer diagnosis and first aid.
20
Different Clinical Experience Options
What Will I Learn?
Students who want to become certified athletic trainers must earn a degree from a CAATE-accredited athletic training program.
Accredited programs include formal instruction in areas such as injury/illness prevention, first aid and emergency care, assessment of injury/illness, human anatomy and physiology, therapeutic modalities, and nutrition. Classroom learning is enhanced through clinical education experiences. You will do 5 semesters of clinical rotations.
Research Opportunities
With three core faculty and collaborations available throughout campus, USM offers a diverse array of research opportunities. The three core faculty in athletic training are currently working on projects in Injury Prevention, Burnout in ATs and other healthcare professions, and Concussions and Issues of Sport Culture.
The ability for graduate students to preform research helps provide a deeper understanding of how clinical care is impacted through evidence-based practice. It also gives students the opportunity to contribute to the field of athletic training by answering a question they find particularly interesting.
Scholarships
Their are several scholarship opportunities available for athletic training students through the USM Foundation and Athletic Foundation. In addition to scholarships offered through the University, being a member of our national organization allows opportunity for scholarships from MATA, SEATA, and NATA.
Unique Program Requirements
Each student will take part in a full semester clinical immersion during their 2nd fall semester. The athletic training student will work side-by-side with a certified preceptor for 15+ weeks at a site that matches their future job goals. This will allow students to get a better understanding of the day-to-day workings of a job setting that they hope to pursue.
Specific Admission Requirements
All students must apply through the Graduate School website. (https://www.usm.edu/graduate-admissions/index.php) You will be required to upload a Cover Letter, Resume/CV, three writing prompts, minimum of 100 clinical observation hours, a signed technical standards form, and contact information for three individuals who will provide a letter of recommendation. Following successful scoring of your application, you will be asked to do a interview with faculty and staff from the Athletic Training Program. Interviews will be done either in-person or via Zoom.
Faculty Highlight: Jeffrey Parr, PhD, LAT, ATC, EP-C
Jeffrey Parr, a 2010 graduate of the University of Florida, serves as the program director for the athletic training program. He has seven years of clinical experience working in the collegiate setting. He is committed to providing the best possible experience, both in the classroom and clinical setting, for each of his students. He is also involved on the advisory board for the Sports Medicine program at Hattiesburg High School.
Professional Licensure Disclosure
The University of Southern Mississippi is currently accredited by the Commission on Accreditation of Athletic Training Education (CAATE), 2001 K Street NW, Third Floor North, Washington, DC 20006 USA. The program is currently applying to the CAATE for a change in level of degree and is pending approval.T
his program is designed to prepare students to sit for the Board of Certification (BOC) exam. Upon graduating, passing the BOC exam, and having or obtaining an approved emergency cardiac care card, individuals can apply for certification through the BOC and become certified athletic trainers (ATC). Certified athletic trainers can then apply for licensure in 46 states and the District of Columbia. Contacts for state licensure or other state regulations can be found on the Board of Certification website.
For questions, please contact Dr. Jeffrey Parr, LAT, ATC at 601-266-6321 or at Jeffrey.ParrFREEMississippi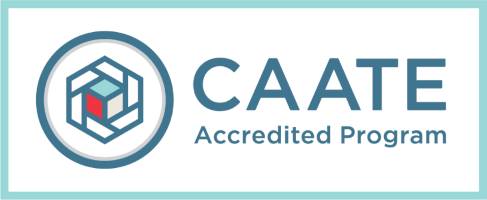 Availability
Secondary Schools

Professional Sports
College/University

Performing Arts
Clinic and Hospital

Physicians' Offices
Kevin Mangum, 1981


Assistant AT, New Orleans Saints

Trinity McClain, 2021


George Washington Carver HS (via Children's Hospital of New Orleans)
Stephanie Smith, 2004


Head AT, Jones College (via Hattiesburg Clinic)
Evan Dauterive, 2009


Assistant AT/Head Football AT, UL-Monroe