About
The Institute for Disability Studies
The Institute for Disability Studies (IDS) is Mississippi's University Center for Excellence in Developmental Disabilities (UCEDD). Created by federal legislation in the 1960s, UCEDDs are associated with universities across the United States and its territories and promote independence, productivity and community inclusion for people with disabilities. UCEDDS, like IDS, focus on training, technical assistance, service, research and information-sharing, and uniquely facilitate the flow of disability-related information between community and university.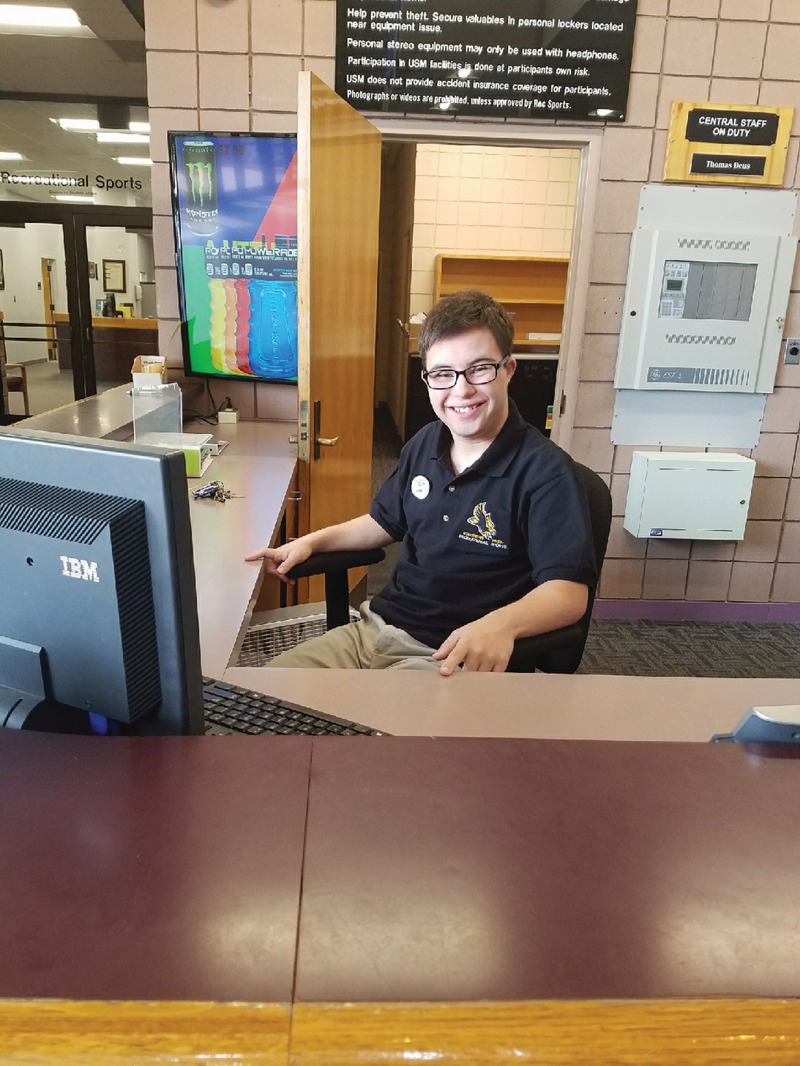 IDS has provided interdisciplinary education, community services, information dissemination and research to Mississippians with developmental and other disabilities statewide for more than 40 years. Staff work with people with developmental and other disabilities of all ages-infants, toddlers, school-aged children, youth, workers, parents, families and seniors-providing pathways to a better informed, more productive, community-based life.
IDS' work is about enhancing quality of life for Mississippians with disabilities. Through programs and services focused on early childhood inclusion and education, housing, transition to adulthood, and wellness, IDS
believes everyone should be included in their communities
educates university students through interdisciplinary courses and service learning
promotes high-quality early childhood inclusion to meet the needs of early childhood educators, families and young children with special needs
serves as a statewide center for resources and information
assists individuals and families in obtaining affordable, accessible, safe housing
helps youth and young adults reach their potential and find purpose during the transition to adulthood and
opens doors to creativity, athletic competition and inclusive recreation for people with disabilities.
According to the Americans with Disabilities Act, an estimated 43,000,000 U.S. citizens have disabilities. The Developmental Disabilities Assistance and Bill of Rights Act Amendments of 1994 report that more than 3 million of these individuals have developmental disabilities and that the majority of the disabilities are severe and likely to continue indefinitely. Many more Americans are at high risk for developing disabilities because of poor prenatal care, poor environmental living conditions, lack of early educational opportunities, and lack of access to appropriate health and human services. It is a documented fact that individuals with disabilities, as a group, occupy an inferior status in our society and are severely disadvantaged socially, vocationally, economically, and educationally. These facts hold true in Mississippi, where the population of individuals with disabilities is estimated at over 350,000, and the highest rate per population in the United States. Over 40,000 of these individuals have developmental disabilities.
The Institute for Disability Studies (IDS) is Mississippi's Center for Excellence in Developmental Disabilities Education, Research, and Service. Housed at The University of Southern Mississippi, IDS strives to meet its federal mission to enhance the quality of life across the life span for citizens with disabilities and their families, regardless of culture, ethnicity, or socioeconomic background. Quality of life is enhanced through leadership activities that promote policies of inclusion at home, school, work, and recreational settings. Through supportive efforts to facilitate the availability of an array of individual and family supports that are community-based and culturally competent, IDS promotes the independence, productivity, and community integration and inclusion of individuals with disabilities. Supportive efforts include interdisciplinary preservice training; community service activities that involve outreach training, technical assistance, and model service demonstration; and dissemination of state-of-the-art practices based on applied research.
As part of the national network of Centers for Excellence in Developmental Disabilities Education, Research, and Service, IDS relies on similar programs across the country for support in developing and implementing core functions. All IDS functions and programmatic activities are grounded in a firmly committed set of values-based beliefs and guiding principles.
The Association of University Centers on Disabilities (AUCD) is a membership organization that supports and promotes a national network of university-based interdisciplinary programs. Network members consist of:
1. 67 University Centers for Excellence in Developmental Disabilities (UCEDD), funded by the Administration on Developmental Disabilities (ADD)
2. 38 Leadership Education in Neurodevelopmental Disabilities (LEND) Programs funded by the Maternal and Child Health Bureau (MCHB)
3. 21 Intellectual and Developmental Disability Research Centers (IDDRC), most of which are funded by the Eunice Kennedy Shriver National Institute for Child Health and Development (NICHD)
The Administration on Intellectual and Developmental Disabilities (AIDD) is the U.S. Government organization responsible for implementation of the Developmental Disabilities Assistance and Bill of Rights Act of 2000, known as the DD Act. ADD, its staff and programs, are part of the Administration for Children and Families, of the U.S. Department of Health and Human Services.
The Mississippi Council on Developmental Disabilities (MSCDD) is a federally mandated body of advocates appointed by the Governor to promote a better quality of life for individuals with developmental disabilities, their families, and their communities. Improvement in quality of life is accomplished through initiatives that promote advocacy, capacity building, and systems change. The current 25-member Council includes people with disabilities, parents, family member advocates, and required governmental representatives from public and private organizations. Membership reflects the diversity of the state.
Disability Rights Mississippi (DRMS) is a private, non-profit corporation with a federal mandate to protect and advocate for the rights of individuals with disabilities across the state of MS. DRMS has been providing advocacy services for almost thirty years, free of charge, to Mississippians with disabilities and has helped improve the lives of thousands of our state's most vulnerable population by championing their rights.
Collaborative Newsletter
Affiliates and Partners who provide specialized services or software in at no cost to IDS to help in our mission of serving persons with disabilities:
MyTurn provides our Toy Library Checkout Management system.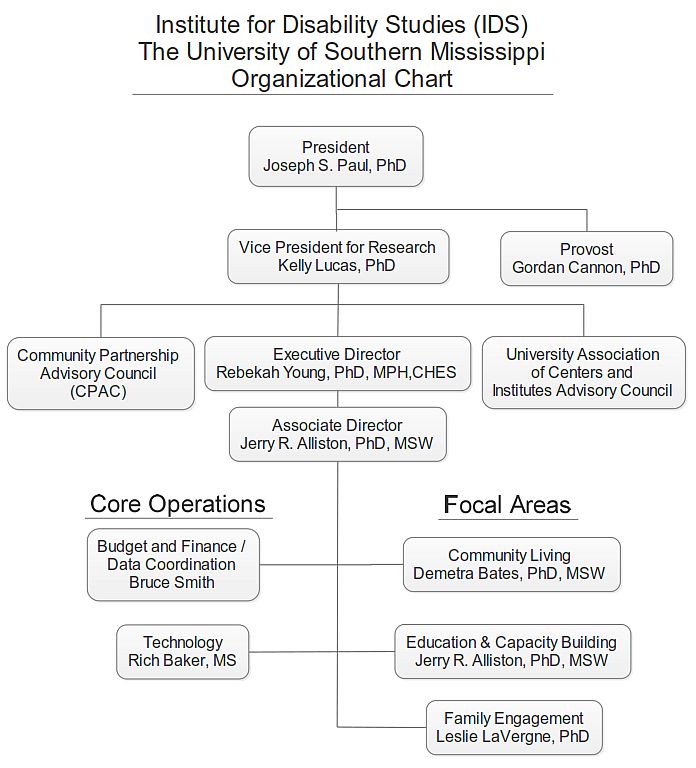 How To Support IDS
Thank you for your support!
Your donation to IDS will enhance the quality of life for individuals with disabilities and their families throughout Mississippi.
Here's how you can help individuals with disabilities of all ages and their families. Please give to IDS via The USM Foundation. Once there, scroll down to "Designations" and select "Give to the area(s) of your choice" and type in "1694" in the search and select "Institute for Disability Studies Development Fund.
Let's work together to make a real difference.
Telephone: (601) 266-5163
Toll Free 1-888-671-0051
If you are hearing impaired, please use 711 for the free TTY-Based Telecommunications Relay Service.
For more information about giving through estate planning and other forms, contact development officers at the USM Foundation at (601) 266-5602.