USM's Children's Center Graduates Beat Back to School Nerves
Tue, 08/31/2021 - 01:48pm | By: Courtney Tesh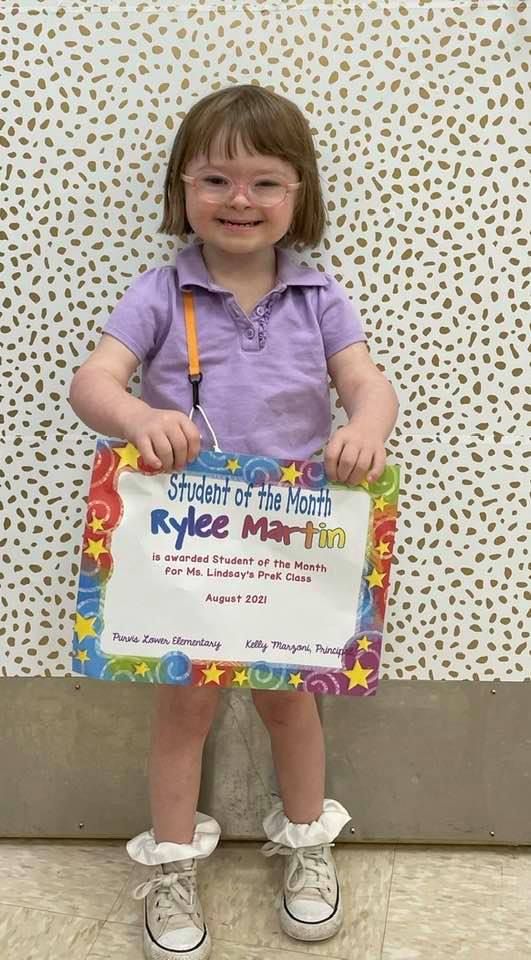 It's that time of year. Freshly sharpened pencils and unused glue sticks, brand new backpacks, and pristinely packed lunchboxes, and of course the first-day-of-school photos.
But with the excitement of a new school year come the inevitable back to school jitters. Whether from the perspective of the student, the parent, or the teacher, we are all familiar with the nerves that accompany a new school year. New teacher, new subjects, new friends, new rules, new everything.
And there's something extra jittery about those pre-K and kindergarten jitters. Something about that first official year of school that brings excitement coupled with a healthy dose of worry. It all feels so big. The backpack, the cafeteria, the big kid drop-off. Even if you are certain that your little one is ready, there's something about this milestone that stops you in your tracks.
And if that little one under that big backpack has special needs, those worries are likely even more pronounced. Will they understand her? Will he get the help he needs? How will I advocate for him if he doesn't? Is she ready? Is this the right fit for him? Will she make new friends? Are we making the right decision?
These are the types of questions that many special needs parents will ask themselves as their little one makes his/her way through those big doors for the first time. And while no amount of preparation or support can eliminate those concerns, the staff at The Children's Center for Communication and Development at The University of Southern Mississippi (USM) do everything they can to ease them as much as possible.
"As my tiny 5-year-old daughter independently got out of my van in carline, put on her backpack, and confidently walked into school on her first day, I immediately thought of The Children's Center," said Katie Martin, mom of Children's Center graduate, Rylee Martin.
"I felt confident in her ability to navigate the halls, the classroom, and all the new things she will encounter this year. That confidence was gained at The Children's Center. Rylee was prepared for all of the trials of going to 'big kid school' and so was I."
Rylee was enrolled in therapy at The Children's Center when she was an infant, after being diagnosed with Down syndrome at birth. For the first 5 years of her life, she received speech therapy, physical therapy, occupational therapy, and special education at no cost to her family. Early on that looked like therapists visiting her home, working on skills like sitting up independently and drinking safely from a sip cup. In more recent years, it's evolved to group therapy in the Center, practicing skills like taking turns with friends, holding a lunch tray at
school, expressing her needs and wants to her teachers and peers, and preparing for this next stage in life.
"Rylee is a shining example of the reason we do what we do at The Children's Center," said Sarah Myers, Director at the Center. "She and her family have worked so hard during their time with us. And the results of that hard work, and of the undeniable passion on the part of Rylee's team at The Children's Center, cannot be ignored. We will miss this independent, funny, sassy, sweet girl, and her family. But we're so excited for the next part of their story."
As Katie Martin said, "As we move into Rylee's next chapter, I am sad to leave The Children's Center, but know that we will always count it and the team as family. They taught us to support Rylee in being her best self and exceeding all goals and expectations in the future!"
But back to school doesn't always look like carline and drop-off and cafeteria lunches. Sometimes, back to school looks like setting up your home to best suit the learning needs of your child. Sometimes it's mom putting on her teacher hat and dad leading a science experiment. But regardless of the setting for this new kindergarten year, many of the worries and uncertainty remain the same. And the support from The Children's Center is just as valued and valuable.
"We thought that once we graduated, we wouldn't hear from The Children's Center, except for 'I miss you's' and updates on our son's progress," says Raven Tynes, mom of Children's Center graduate, Solomon Tynes. "We were wrong, in the best way. Just recently, for instance, Solomon's occupational therapist came to our house to help me make sure his learning space here at home would best serve him, even going so far as to loan us tools to use. She went above and beyond because she loves him. And in our experience, that is The Children's Center way. And I think it's what makes the difference in seeing kids thrive in therapy."
And thrive, he has. When Solomon was enrolled at The Children's Center at almost 3 years of age, he was not able to communicate verbally and was diagnosed with apraxia of speech. Throughout his journey at the Center, he and his family worked hard to learn and master numerous modes of communication including an Augmentative and Assistive Communication (AAC) device in the form of a tablet outfitted with a communication app. And as he closed this chapter at the Center last spring, he walked into the building, gave his device back to his therapist, and said "I don't need this anymore."
Tynes goes on to mention ways in which Solomon's whole team has helped prepare him, and them, for this next chapter. "Since we plan to homeschool, the Center has really done a great job of helping me understand what's next. They helped us make a plan, and even helped us prepare for entering the school district later in case we decide to go that route."
"So, here's the biggest thing though," said Tynes. "The Children's Center taught us to advocate. They taught us about the challenges our kid faces every day, so that we know how to help him. And if I don't have the answers, they taught me how to find someone who does."
At the end of the day, regardless of what the next chapter looks like for a special needs parent, and regardless of what chapter they are entering, knowing how to advocate for their child is key to calming those jitters and quieting those questions in their mind. And The Children's Center works hard to support families and arm them with the tools they will need to do so.
"We cannot tell you how proud we are of Solomon and Rylee and the rest of our little ones who are boldly and bravely moving on to the next part of their journey," said Myers. "We know they will do big things in this next chapter, and we are so honored and grateful to have played a role in the start of their story."
---
About The Children's Center for Communication and Development
The Children's Center for Communication and Development at The University of Southern Mississippi is a non-profit that provides cost-free communicative and developmental transdisciplinary services to infants, toddlers, and preschoolers while educating, training and supporting families, university students and professionals. For more information, visit www.usm.edu/childrenscenter.