Rivera, Wilbert Honored as Distinguished Alumni by USM's College of Business and Economic Development
Mon, 04/12/2021 - 09:49am | By: Van Arnold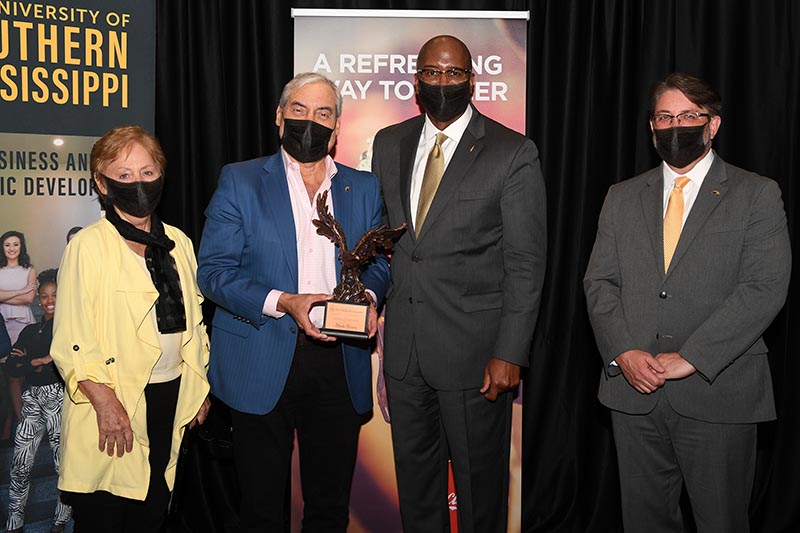 Pictured left to right: Nell Murray, President of USM's Business Advisory Council; Alfredo Rivera, President of Coca-Cola North America; Dr. Rodney D. Bennett, USM President, and Dr. Bret Becton, Dean of USM's College of Business and Economic Development.
Alfredo Rivera, President of Coca-Cola North America, was honored as the Boardman Alumnus of the Year by The University of Southern Mississippi (USM) College of Business and Economic Development during a special luncheon held Friday, April 9 at the Thad Cochran Center on the University's Hattiesburg campus.
Jarvis Wilbert, a pharmaceutical sales representative for Eli Lilly, was recognized as the Young Alumnus of the Year. The awards are sponsored by Joseph F. Boardman.
"The College of Business and Economic Development at USM has a long history of producing outstanding graduates who go on to distinguish themselves in their career endeavors," said Dr. Bret Becton, dean of the college. "We are pleased to honor two individuals who have achieved impressive levels of success and renown in their chosen fields."
Rivera previously was president of Coca-Cola's Latin America group, where he oversaw the operations of four business units across nearly 40 Latin and Caribbean countries. Prior to that, he served as president of the Latin Center business unit. Under his leadership, Latin Center qualified for the company's top award -- the Woodruff Cup - three years in a row and was awarded the prestigious prize in 2014.
Rivera joined The Coca-Cola Company in the Central America and Caribbean Division in 1997 as a District Manager for Guatemala and El Salvador. In 1999, he was appointed Southeast Region Manager in the Brazil Division, serving in this role until December 2003.
Wilbert, a native of Brookhaven, Miss., works as a pharmaceutical sales representative for Eli Lilly in the diabetes division. He has been with the company since 2016. In his role, he meets with healthcare providers, office staff and pharmacies to ensure patients receive the proper medication and get off to a good start on therapy.
Wilbert also serves as the diversity and inclusion champ on his team, illuminating and celebrating everyone's differences in an effort to create a sense of belonging throughout the area and company.
While holding a full-time job, Wilbert is also in pursuit of his MBA at Southern Miss and is set to graduate in December. This is the second degree he will have earned from USM, graduating with his BSBA in 2015.
"I do not think we could have found two more deserving alumni to honor this year and we are grateful that they are part of the Southern Miss Business family," said Becton.
To learn more about the College of Business and Economic Development at USM, call 601.266.4659 or visit: https://www.usm.edu/business/index.php