USM's Eagle Walk Becomes EEEEEEKle Walk for The Children's Center
Fri, 10/29/2021 - 10:45am | By: Courtney Tesh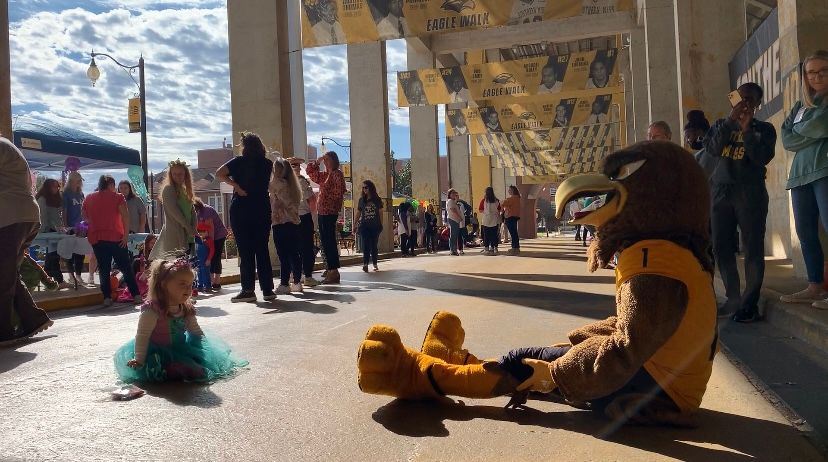 USM's beloved mascot, Seymour, was spotted sitting down on the job at Eagle Walk earlier this week as he played with his new friend, The Little Mermaid, also known as Abigail Whittington, age 3.
In fact, the Golden Eagle mascot may have been the only familiar sight at the location typically filled with a sea of black and gold as fans cheer on the Southern Miss football team prior to home games.
But on Wednesday, Oct. 27, the renowned Eagle Walk was transformed into EEEEEEKle Walk for the first time. Departments across USM's campus showed up, many in full costume, and lined the street with booths and tables decked out with decorations and games for little ones from The Children's Center for Communication and Development at USM.
"For many of our children, the act of going trick-or-treating in a typical setting can be overwhelming, upsetting, or altogether inaccessible for them," said Sarah Myers, Director at The Children's Center, a non-profit that provides cost-free therapy for children age 0-5 with complex disabilities on both of USM's campuses.
"Imagine trying to join your friends as they knock on a door," said Myers, "but not being able to get there in your walker or wheelchair. Or not being able to say 'trick-or-treat' verbally and hoping that person in the doorway understands. Or struggling with sensory overload from large crowds and too many unfamiliar sights and sounds. At The Children's Center, we understand these struggles and the stress they can cause for not just our children but for their families as well, and we aim to help alleviate that as much as we can."
At EEEEEEKle Walk, children and their families could put aside those concerns and focus on having fun. The closed off street and fully accessible space allowed every child the same opportunity to access the games and activities and, of course, the treats. The booths were filled with smiling faces, happily greeting each little one and welcoming "trick-or-treats" of every kind, verbal or otherwise.
"Some of our children are learning to use a device to communicate and it was so wonderful to watch them work on this skill in a fun setting with such patient communication partners," said Myers. "We can't thank our friends at USM enough. This event meant so much to both us and to our families."
"EEEEEEKle Walk was so much fun," said Julia Sippel, mom to Kennedy (Minnie Mouse), age 2. "As a parent, it meant so much to see our little one enjoying herself, getting to explore new things, and having big sister join in as well." Kennedy has just begun to master using a walker to get around and EEEEEEKle Walk was the perfect opportunity for her to safely explore and play. "We are so thankful for all that The Children's Center does to make sure our girl can participate in her own way!"
And Seymour stole the hearts of not only the children, but the adults in attendance as well. "To see how attentive and patient Seymour was with the children made me so happy," said Erin Green, mom to Eli, age 3, who was Bluey for the day.
"Eli isn't typically a big fan of characters in person, but by the time we were leaving he couldn't stop hugging and high-fiving Seymour!" Green went on to say how grateful she was for the 4experience and for those involved in making it a success. "My baby was so excited and literally danced and giggled the entire time. The Children's Center staff and the other USM departments who were there took the children's well-being into consideration and turned this into the best trick-or-treating experience I've seen. The joy and elation on each of the kids' faces melted my heart."
And it's safe to say that Green was not alone. As Myers said, "This morning brought joy to all involved, and we already can't wait for next year."
---
About The Children's Center for Communication and Development
The Children's Center for Communication and Development at The University of Southern Mississippi is a non-profit that provides cost-free comprehensive early intervention therapy for children age 0-5 with complex disabilities while educating, training and supporting families, university students and professionals. For more information, visit www.usm.edu/childrenscenter.