Former FBI, CIA Agent to Keynote USM Panhellenic Event
Wed, 03/17/2021 - 09:23am | By: Margaret Ann Macloud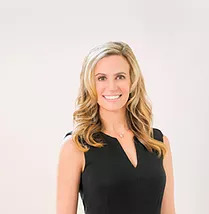 The College Panhellenic Council (CPC) at The University of Southern Mississippi (USM) will host Tracy Walder, a sorority woman turned CIA and FBI agent, as the speaker for Sisterhood Month on Tuesday, March 30. The virtual event is free and open to the public and will be streamed at 6 p.m. on the CPC's Facebook Live (@USMPanhellenic) or at this Zoom link..
Walder was a member of Delta Gamma sorority at the University of Southern California when she was recruited by the CIA. She spent the next five years as a covert operative for CIA's Counterterrorism Center, assuming aliases, thwarting terrorist attacks, and hiding in the trunks of cars on her way to debrief terrorists at black sites. During this time, Walder received many awards for her service from both the CIA and from foreign intelligence offices. After the CIA, she became a Special Agent at the FBI's Los Angeles Field Office, specializing in Chinese counterintelligence operations. She is the author of The Unexpected Spy, the riveting story of her tenure in the CIA and the FBI.
Walder said that catching the bad guys wasn't a problem in the FBI, but rampant sexism was. She left the FBI to teach young women, encouraging them to find their place in powerful positions—and thus change the world.
"When I heard Ms. Walder speak at the Virtual Panhellenic Academy, I knew that her message was one that I would love to share with the community here," CPC President Mina Burton said. "She shared with us that the leadership roles she held in her undergraduate years equipped her with soft skills that allowed her to obtain a high-ranking job in the CIA directly out of college. Later, she would go on to work for the FBI. Revealing exciting tales about searching for Weapons of Mass Destruction and conversations with international terrorists, Ms. Walder's speech itself was riveting, but it was her final message that resonated with me the most. She shared with us that she left the FBI to teach and mentor young women to succeed in the career field of their choice. She offered honest advice about what it was like working in a male dominated industry, and she was so genuine in her belief that we have the power to change the world. This is not a speaker you want to miss!"