Southern Miss Alumni Association Offers Free, Online Mentoring for Students and Alumni
Thu, 01/21/2021 - 13:51pm | By: Nicole Ruhnke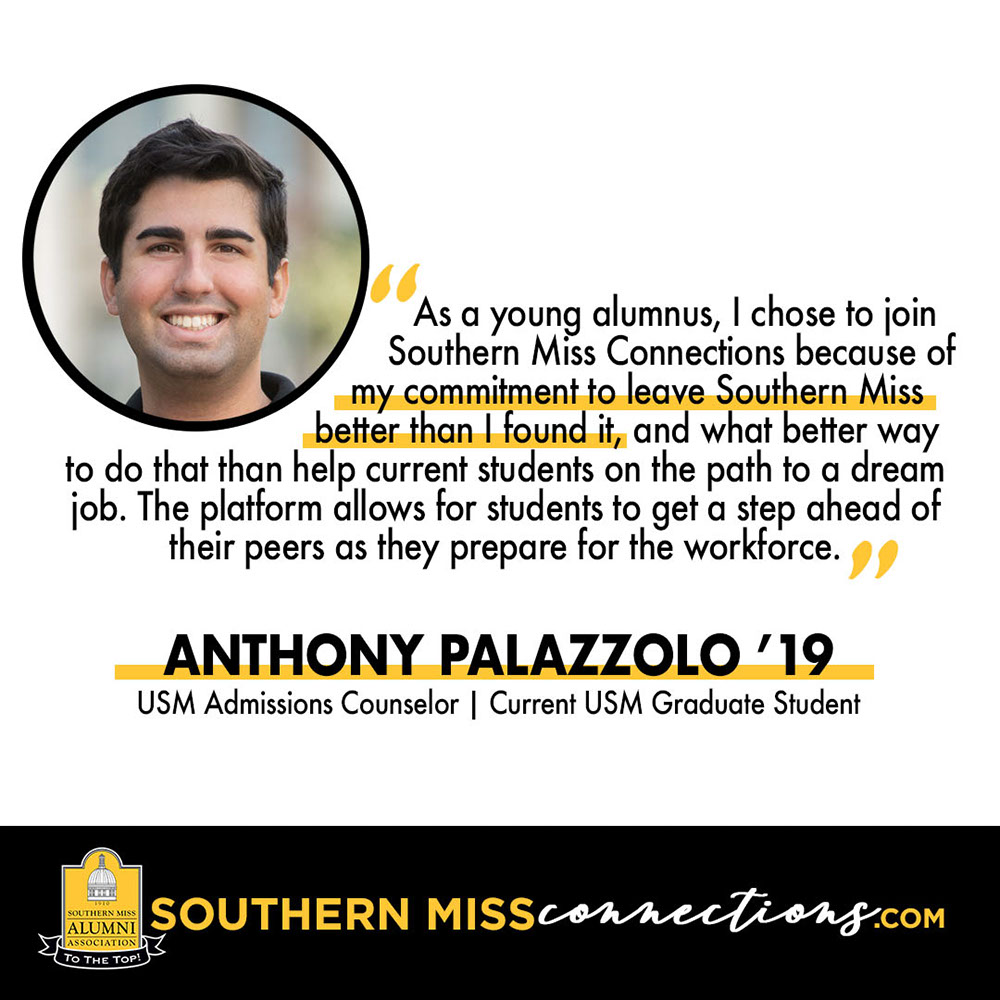 The Southern Miss Alumni Association is proud to offer free online mentoring for students and alumni of The University of Southern Mississippi through its Southern Miss Connections platform. Southern Miss Connections allows alumni and students to connect based on industry, location and campus involvement – fully online and at no cost. Currently, more than 300 Southern Miss students and 200 alumni are active in the platform.
Southern Miss Connections was introduced in 2019 to a select group of USM students after nearly a year of research and preparations, including the buy-in from the Association's volunteer leadership, who made up the initial pool of alumni mentors. Since its launch, users have exchanged more than 600 messages and with a 74% response rate.
"Throughout the organization's strategic planning process a few years ago, the need for enhanced mentorship opportunities was hard to ignore," said Jerry DeFatta, executive director of the Southern Miss Alumni Association. "From the standpoint of a four-year student engagement program to long-term alumni engagement benefits, we knew that a strong mentoring program would be key to our organization's service to the University community. Little did we realize at the time, online mentorship would become a lifeline for students and alumni, alike, in 2020."
"The most valuable feature of Southern Miss Connections is, like most things at Southern Miss, the people," said Abby Brennan, a junior industrial engineering technology major at Southern Miss. "Finding people who have been in your shoes and can relate to your situation has been so helpful. These connections have the opportunity to grow as we grow and last a lifetime."
Ned Nelson '15 is a member of the Association's GOLD Council (Graduates of the Last Decade) and has been an active mentor within Southern Miss Connections since its inception. "There were so many unknowns and questions I had as an undergraduate student and I think it is invaluable to be able to connect with young alumni and professionals in your field of study who can answer those questions and provide much needed guidance," said Nelson. "Southern Miss Connections provides that in a really easy to use format."
Earlier this year during the coronavirus lockdown, the Association's leadership approved the addition of a new feature – alumni-to-alumni mentoring, which allows graduates of all ages and experience levels to connect with each other.
"It was important for us to provide a meaningful way to support alumni during the unprecedented and very difficult times resulting from the pandemic," said BayLee Long, the Association's assistant director for programs and constituent relations. "Adding alumni-to-alumni functionality allowed for Golden Eagles to seek professional advice, connect with fellow graduates and expand their networks from the comfort and safety of their own homes."
The community of Golden Eagles within Southern Miss Connections continues to grow, and more alumni are needed to connect with current students. Serving as an alumni mentor not only provides service to the University and future alumni, but also provides a unique opportunity for alumni to add value to the Southern Miss experience from across the country.
"Southern Miss Connections is a simple way to give back to the University," added Nelson. "As young alumni, especially, we can get tired of the expected solicitations for financial contributions to the University. But with Southern Miss Connections, all you have to give is your time."
To learn more about Southern Miss Connections, visit SouthernMissAlumni.com/Mentor.