USM Alumnus Gandy Honored by UMMC School of Dentistry
Wed, 10/27/2021 - 17:15pm | By: David Tisdale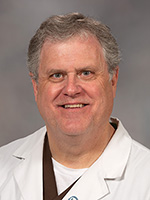 A newly named development fund at the University of Mississippi Medical Center (UMMC) honors a University of Southern Mississippi (USM) alumnus and three of his faculty colleagues at its School of Dentistry.
Dr. Stephen Gandy, a prominent Jackson, Mississippi-area oral surgeon who earned his undergraduate degree at USM, along with Dr. Jeffrey Brown, Dr. George May, and Dr. Daniel Quon, have been recognized for their contributions to the school with the establishment of the Outstanding Faculty Award. The award will be presented annually to a full-time faculty member chosen the by school's D4 dental class as the most impactful teacher through the course of its DMD (Doctor of Dental Medicine) program.
The Outstanding Faculty Award is one of four named development funds recently created that pay tribute to a total of seven individuals at the UMMC School of Dentistry and support a variety of initiatives at the school. Each honoree has designated an area of need for support.
"All of them will be used to improve something about the student experience, whether that's scholarships, a fund to assist patients they work with, diversity and inclusion, or a faculty award," said UMMC School of Dentistry Dean Dr. Sreenivas Koka. "The honorees want to make sure this improves the student experience."
Dr. Gandy earned a Bachelor of Science degree in biology from USM in 1984. He is a 1988 graduate of the UMMC School of Dentistry, where he has been a part-time clinical faculty member since 1994. He worked 24 years with Oral and Maxillofacial Surgery Associates of Flowood and Madison before retiring from private practice five years ago. Earlier this year, UMMC also recognized Dr. Gandy with its Dental Alumnus of the Year award.
"It's one thing to get a salary and financial support for things you have to do in your work, but this (Outstanding Faculty) award would encourage our faculty," Dr. Gandy said. "They can use this to advance their education, if they wish, and then turn around and give that expertise back to the school."
For information on supporting the Outstanding Faculty Award honoring Dr. Gandy, visit www.umc.edu/dentistryfund.