USM Groups Collaborate to Help Beautify Campus
Mon, 04/12/2021 - 04:16pm | By: Van Arnold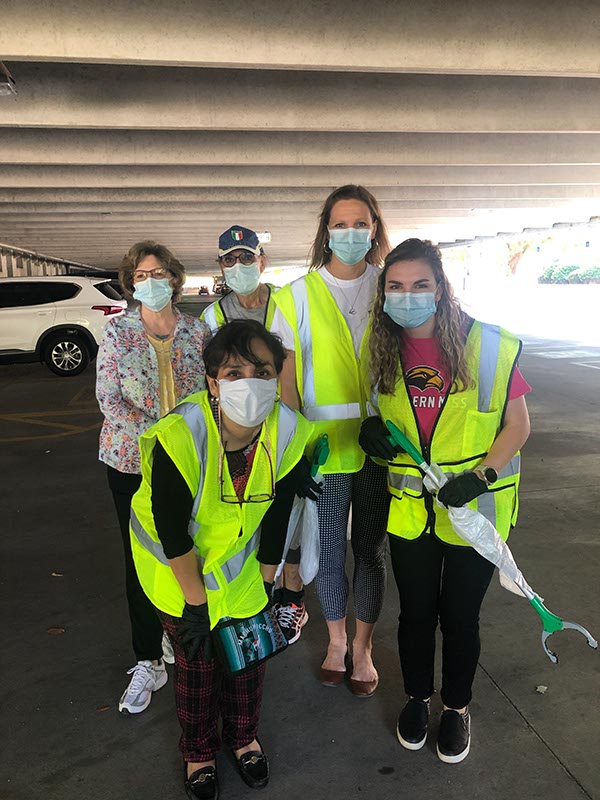 In the true spirit of "spring cleaning," a group of organizations at The University of Southern Mississippi (USM) have joined forces to spruce up the Hattiesburg campus.
Members of USM's Association of Office Professionals and USM Staff Council teamed up with students from the Sigma Alpha Lambda Honor Society recently to collect trash in the parking garage area as part of the "Transforming Our Community Through Kindness" initiative. Find out more at: USM AOP main webpage.
Jennifer Lewis, chair of the USM Association of Office Professionals, and the Sigma Alpha Lambda Community Chair committees, explained that the trash pick-up was organized in support of upcoming Earth Day (April 22) plans, as well as the University's May commencement activities.
Lewis hopes that the ongoing initiative will serve as inspiration for students, faculty and staff to become more involved with beautification efforts.
"We are taking responsibility for making things better in our community during these turbulent times, with the hopes that in doing so we might make our communities better, while also making our members stronger, more civically engaged individuals cognizant of their civic duties," said Lewis.
Another clean-up day is planned for April 29. Groups or individuals in volunteering, can contact Lewis at Jennifer.lewisFREEMississippi