Former Ohio Governor, Presidential Candidate Kasich is Feb. 23 University Forum Online Guest
Tue, 02/16/2021 - 10:32am | By: David Tisdale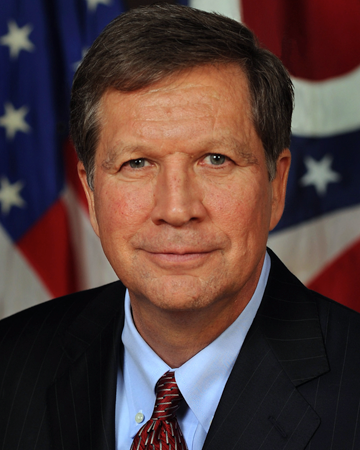 John Kasich, the former Ohio governor and U.S. Congressman who sought the Republican Party's nomination for the presidency in 2000 and 2016, will be the next presenter for The University of Southern Mississippi's (USM) Online University Forum, set for Tuesday, Feb. 23 beginning at 6:30 p.m. Visit usm.edu/forum to sign up for a reminder or, on the night of the event, to click a link to attend this event.
Elected to the U.S. House of Representatives at age 30, Gov. Kasich served 18 years in Congress before leading Ohio as governor for two terms. Throughout his career he has been an advocate for reaching beyond the politics that divide America with civility and decency to find solutions to challenges involving, among others, the U.S. economy, health care reform, immigration, and international trade.
Gov. Kasich is a popular and frequent conservative political commentator for CNN, FOX News, MSNBC and other media outlets. He is the author of five books, including the New York Times Bestsellers Courage is Contagious (1988) and Every Other Monday (2010) and most recently It's Up to Us: Ten Little Ways We Can Bring About Big Change (2019). In 2020, he endorsed Democrat Joe Biden for President. On Feb. 23, the former governor will discuss for University Forum the important role of faith, family, and free enterprise in the future of conservatism.
"Given the partisan divides, the fractured media, and the dueling conspiracy theories, it often seems like the disagreements that have gridlocked American politics are unsurmountable," said Dr. Andrew Haley, director of University Forum. "Former Gov. Kasich, a lifelong conservative Republican, believes there is a solution, and it begins with us. We're very pleased that he will be sharing his vision of the future of the Republican Party and American politics—a vision grounded in empathy--with Southern Miss at University Forum."
Presented by the USM Honors College, University Forum is free, open to all, and now entirely online. To learn more about how to attend University Forum online, to register for an optional email invitation, or to find out more about its spring 2021 speakers, visit usm.edu/forum. To keep up with everything about University Forum, 'like' the University Forum Facebook page at https://www.facebook.com/universityforum/; follow on Twitter at @USMForum; or email forum@usm.edu.