Record Amount Raised for Make-A-Wish Mississippi at Songfest 2021
Fri, 12/10/2021 - 05:33pm | By: David Tisdale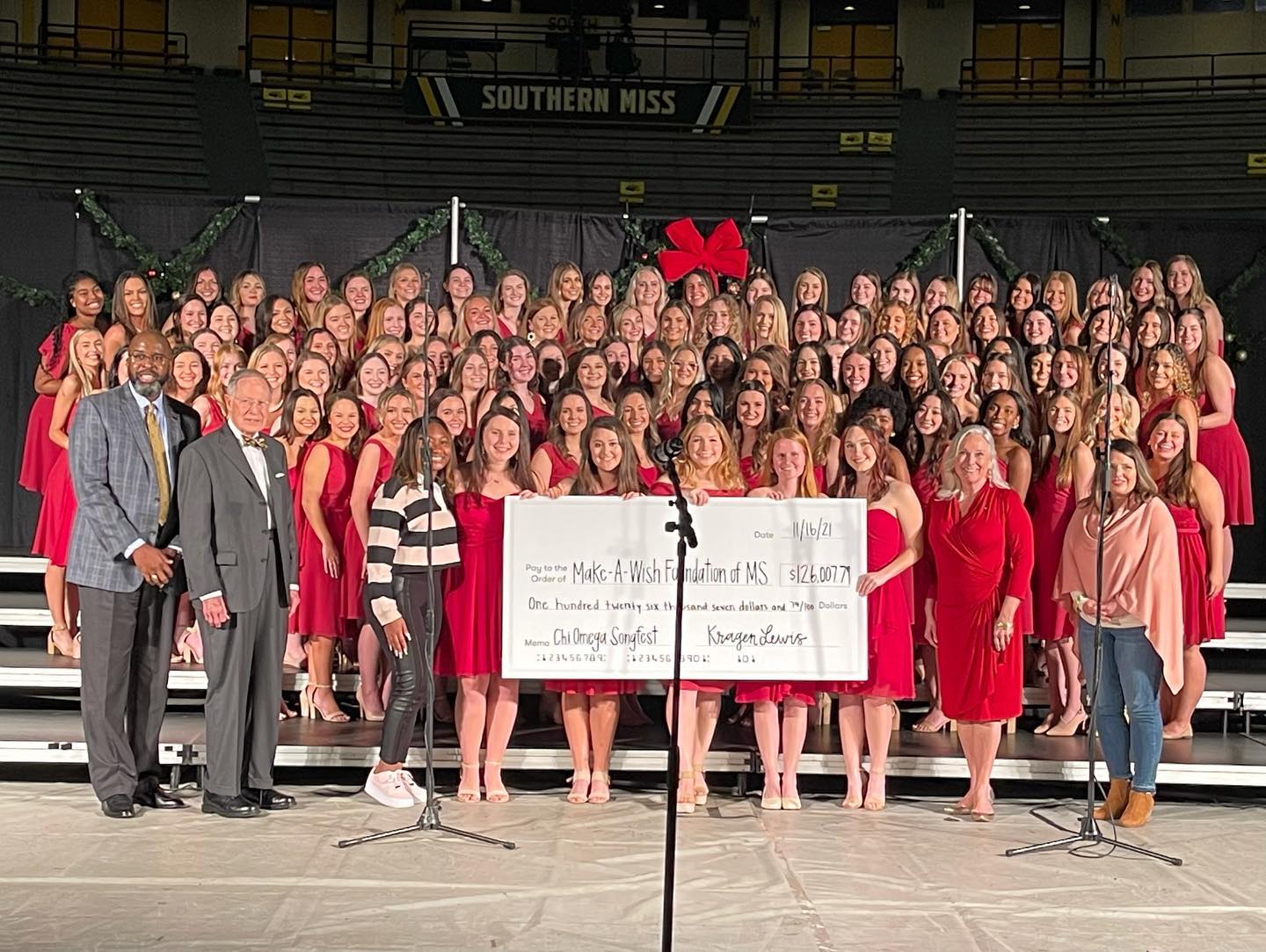 Chi Omega Sorority at The University of Southern Mississippi (USM) broke a record Nov. 11 with its 70th annual Songfest event on the Hattiesburg campus in raising the most ever through the event for its charity of choice, Make-A-Wish Mississippi, bringing in more than $126,000 through contributions from business and organization sponsors, as well as USM Chi Omega alumnae and other supporters of the annual event.
Make-A-Wish Mississippi grants the wishes of children with life-threatening medical conditions.
"The money we raised this year is the most we have raised in the history of the event, and will be enough to grant about 16 wishes, which is so rewarding," said Kragen Lewis, a USM junior from Moselle, Mississippi who serves as Chi Omega's Songfest coordinator. "We are so thankful to Southern Miss Fraternity and Sorority Life and our other supporters for their participation and donations, as we couldn't have done it without them."
Recent in-person Songfests were postponed because of restrictions brought about by the Covid-19 pandemic. "It was a great night bringing back the oldest and largest philanthropy event at the University," Lewis noted.
USM President Rodney D. Bennett, along with USM President Emeritus Aubrey K. Lucas and former USM President Martha Saunders, served as judges for the Songfest competition, featuring musical performances by USM Fraternity and Sorority Life membership. Competition winners include the following:
*1st place sorority: Phi Mu
*2nd place sorority: Pi Beta Phi
*3rd place sorority: Kappa Delta
*1st place fraternity: Phi Kappa Tau
*2nd place fraternity: Pi Kappa Alpha
*3rd place fraternity: Sigma Nu
*Overall winner: Sigma Phi Epsilon