NCS4 Partners with DHS Cybersecurity and Infrastructure Agency (CISA) on Touchless Screening Annex
Tue, 11/30/2021 - 13:24pm | By: NCS4 Staff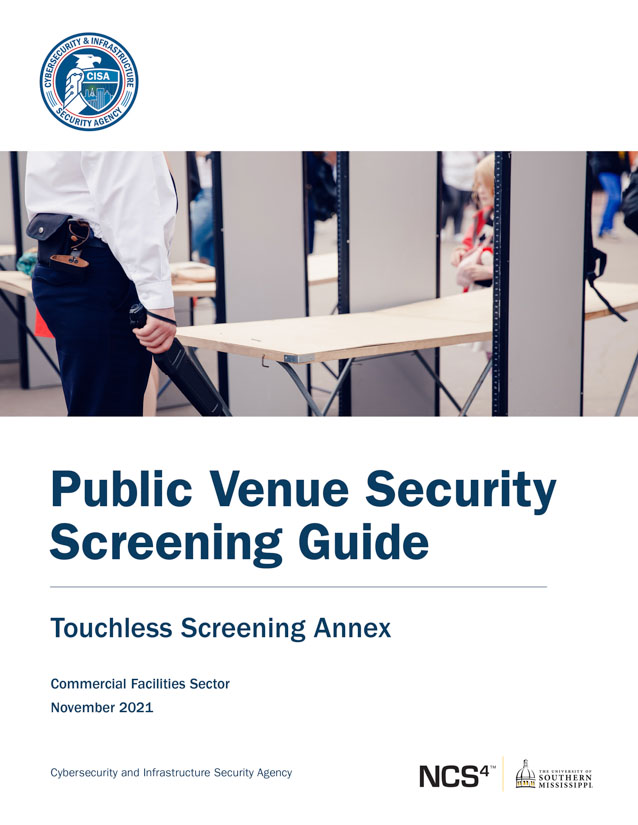 The National Center for Spectator Sports Safety and Security (NCS4) is excited to announce the publication of the Public Venue Security Screening Guide – Touchless Screening Annex, produced in collaboration with the DHS Cybersecurity and Infrastructure Security Agency (CISA).
The Touchless Screening Annex offers best practices for non-contact screening procedures that stakeholders may implement in addition to the screening procedures outlined in the previously-released Public Venue Security Screening Guide. The Annex is intended for use at public venues hosting various events, including sporting events, concerts, fairs and family festivals, conventions, theme parks, and other events or functions where Americans gather.
"This is a timely resource for the industry as spectators return to venues, and management strives to ensure the safe and secure entry of patrons," said Dr. Stacey Hall, NCS4 Executive Director and Professor of Sport Management. "The NCS4 sincerely values the partnership with the CISA team and appreciates the national Working Group members that helped make this resource a reality," said Hall.
The Public Venue Security Screening Guide released in July 2021 set the stage for this latest product. That guide was the third in the CISA series of document updates, beginning with the Public Venue Bag Search Guide release in 2019 and the Public Venue Credentialing Guide release in 2020.
Dr. Hall continues, "I would like to acknowledge the NCS4 staff that played a role in this project, including Daniel Ward, Director of Training & Exercise; Michael Finley, Manager of Curriculum; and Joslyn Zale, Senior Research Associate."
The NCS4 produces best practices and considerations guidelines as part of its resource portfolio. In addition to offering training options in-person and online, the NCS4 acts as an independent evaluation body for technology solutions in the sports and entertainment safety and security space.
For more information, visit ncs4.usm.edu.
---
About NCS4:
Established in 2006, the National Center for Spectator Sports Safety and Security (NCS⁴) is the nation's only academic center devoted to the study and practice of sports safety and security. Housed at The University of Southern Mississippi, The NCS4 is partially underwritten by grants from the Department of Homeland Security (DHS) and the Federal Emergency Management Agency (FEMA). The NCS4 mission focuses on three key pillars – Training and Education, Research, and Outreach. For more information about NCS4, call 601.266.6183 or visit ncs4.usm.edu.