NPHC at USM Makes Donation to Enhance Historic Bennett Auditorium
Tue, 12/07/2021 - 15:09pm | By: Ivonne Kawas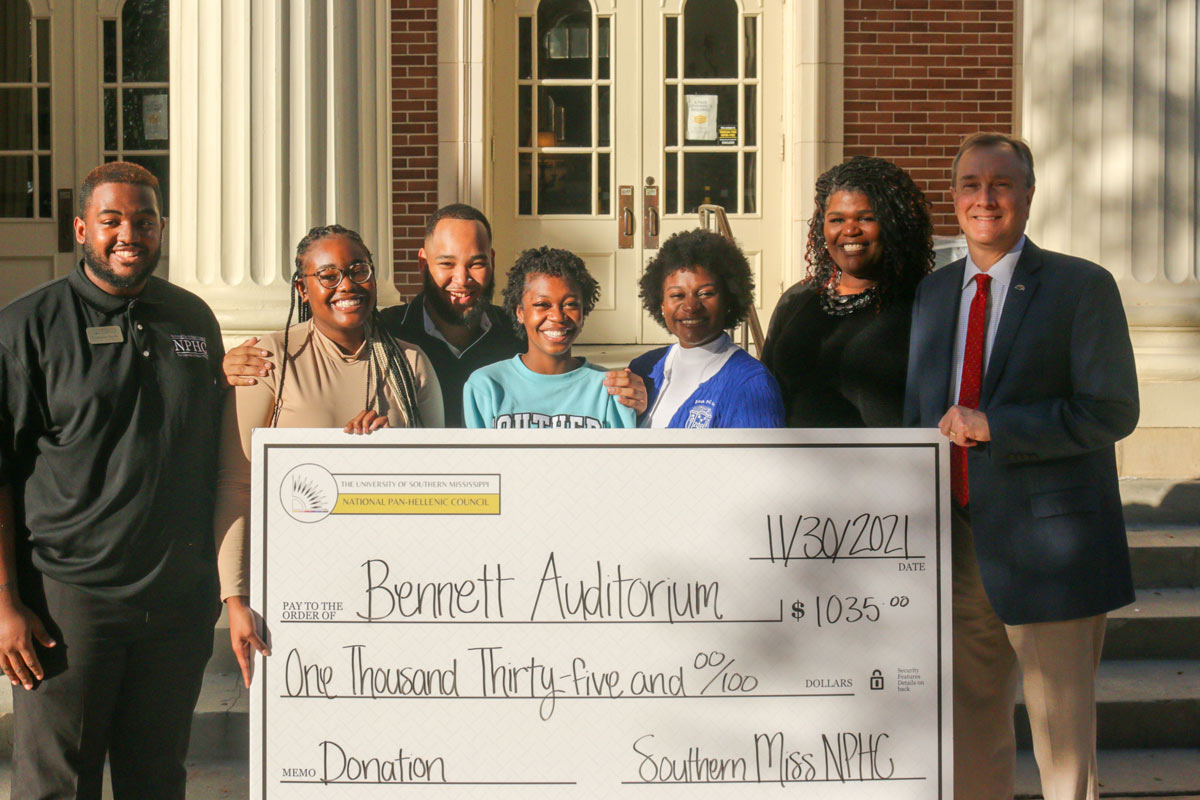 Members of the National Pan-Hellenic Council (NPHC) organizations at The University of Southern Mississippi (USM) recently presented a check for $1,035 to the University that will be used to help fund upkeep of historic Bennett Auditorium on the Hattiesburg campus.
"We sincerely appreciate this gift provided by the NPHC here at Southern Miss. Although student organizations may use Bennett Auditorium at no charge, and have no obligation to provide funds for upkeep of the facility, they decided to generously support our operations through this gift. What a great testament to their appreciation of this beautiful and historic space," said Dr. Chris Winstead, Dean of the College of Arts and Sciences.
For more than 20 years, the Southern Miss NPHC has hosted an annual Homecoming Stepshow in the auditorium.
"Although the event is not always held in Bennett Auditorium, our students love it when we are able to keep the tradition of hosting it in the auditorium," said Valencia Walls, Associate Director for Fraternity and Sorority Life. "Bennett is such an important part of student life at Southern Miss and is a staple of a common bond between alumni and current NPHC members."
Walls says that when planning this year's show, the students learned that the auditorium does not receive funding towards its upkeep, and they wanted to do their part to assist since, "Bennett is the only facility of its kind on our campus, and it holds a special place traditionally for NPHC and other student organizations."
Ciedarius Jacobs from Bolton, Miss. majoring in Media and Entertainment Arts shares his experience while attending his first event held in Bennett, "When I first came to campus in 2018, as I got to witness our first Stepshow, I saw the unity within the council, and got to feel the sense of homeliness and family without actually being a part of the council yet. When I think about Bennett, I go back to this special feeling."
Sherrice Wright from Olive Branch, Miss. majoring in Mass Communication and Journalism adds, "To me, Bennett means tradition. So many of my favorite memories happened in Bennett, from my freshman orientation to GEWW's Got Talent to taking the stage as a Southern Style leader this summer. I even remember attending the Homecoming Stepshow in Bennett my freshman year; it felt amazing to be performing on the same stage three years later."
Named for the University's second president, Claude Bennett (1928-33), Bennett Auditorium was completed in 1930 and named in 1972. This historic building was designed in keeping with the architecture of the University's original structures. The building is the site of many special events including those held by student organizations, an array of concerts and forums, and Golden Eagle welcome week activities. Being the main performance space for the Southern Miss Symphony Orchestra, it has also seen many renowned performers throughout the years such as: Itzhak Perlman, Yo-Yo Ma, Joshua Bell, Francois Rabath, Nadia Salerno-Sonnenberg, Debra Voigt, and many others.
The NPHC is one of three student governing bodies in the USM Office of Fraternity and Sorority Life. Founded in 1930 at Howard University, NPHC is a national coordinating body for the nine historically African American fraternities and sororities, popularly known as "The Divine Nine," which had evolved on American college and university campuses. The NPHC office at USM was established in 1993.